Some of the world's most prestigious design programs are located in Europe, offering specializations that range from ceramics to interaction design. Business Insider and Bloomberg Business have ranked design programs from universities in Italy, Denmark, Finland and England among the top 25 internationally. Not only does studying abroad give aspiring design professionals the opportunity to soak up the local culture but also to interact with influential European designers.
Florence Design Academy (FDA)
Located in the epicenter of the Italian Renaissance, Florence Design Academy specializes in both traditional and modern graphic, interior and industrial design. FDA not only offers training in rare design techniques, such as the application of Venetian plaster, but also allows students to participate in international design contests as part of their coursework.
The school also offers master's-level classes in graphic, interior and industrial design, allowing professionals already working in the design field to continue their education. While the school's location in Florence provides ample opportunities to immerse in Italian art and culture, all classes are taught in English; however, FDA also offers language courses for students who wish to add Italian to their repertoire.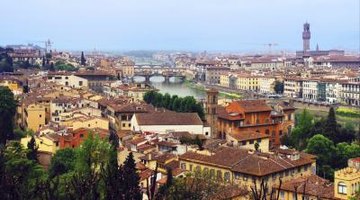 •••
ChudnayaMamba/iStock/Getty Images
Royal College of Art (RCA)
The oldest art and design college in the world, the Royal College of Art is located on the edge of stately Hyde Park in London, England. The RCA's six schools cover a wide range of fields, including architecture, the fine arts, and critical theory and writing on art and design.The RCA's School of Design offers specializations in vehicle design, global innovation design, service design and research, while the School of Material offers programs in fashion design, as well as ceramics, glass and jewelry.
In addition to the school's state-of-the-art studios and digital workshops, the school offers facilities for letterpress printing and galleries in London's Kensington and Battersea neighborhoods. RCA's fashion alumni include designer Erdem Moraliolgu and John Ray, who has worked as the creative director for both Dunhill and Gucci; vehicle design alumni include the design directors of Mazda, Jaguar, Aston Martin and Audi.
•••
Digital Vision./Photodisc/Getty Images
Copenhagen Institute of Interaction Design (CIID)
While many design schools offer programs in a wide range of visual and engineering processes, CIID, located in Copenhagen, Denmark, focuses entirely on interaction design. This field centers on consumers' interactions with products. CIID's program is highly selective -- admitting only 25 individuals to each yearlong course of study-- and offers classes in user interfaces, computational design and wearable computing.
CIID also offers its students two-week innovation workshops where they may work with professionals in the design industry, including companies such as Intel, Nokia and Lego. Some of the program's two-month final projects have been developed into award-winning applications. The navigational software BlindMaps, begun as part of CIID's 2012 program, won best-in-category recognition at the 2015 Interaction Awards.
•••
Kevin Forest/Photodisc/Getty Images
Aalto University School of Arts, Design and Architecture
With campuses in Helsinki, Espoo, and Pori, Finland, Aalto University's School of Arts, Design and Architecture enrolls just under 3,000 students. In addition to programs in fashion, graphic and industrial design, Aalto offers multiple master's-degree studies in new media (including sound and game design). Aalto was formed in 2010 through the merger of three of Finland's leading universities, and emphasizes interdisciplinary study between its various schools.
For instance, a master's design program in international design business management is available in collaboration with the university's school of business. Aalto's emphasis on international work also extends to its student body: Over 90 nationalities study at the university, and classes within the School of Arts, Design and Architecture are taught in English.
•••
Purestock/Purestock/Getty Images
Related Articles
References
Writer Bio
Jon Zamboni began writing professionally in 2010. He has previously written for The Spiritual Herald, an urban health care and religious issues newspaper based in New York City, and online music magazine eBurban. Zamboni has a Bachelor of Arts in religious studies from Wesleyan University.