To become a pastry chef, training at a pastry school is a necessity. European schools are leaders in the pastry arts and have some of the best culinary institutes. With their rich history, variety and long-standing passion for pastry in cuisine, these European pastry schools may be perfect for the ambitious prospective pastry chef.
Le Cordon Bleu
Le Cordon Bleu College of Culinary Arts is a well-recognized name in culinary arts. The first Le Cordon Bleu school opened in 1895 in Paris, and the institution has been boasting success ever since, with schools spanning five continents. With artisan bread techniques and classical European pastry production, this institute is a great choice for the hopeful pastry chef. A variety of programs are offered at the European institutes, including basic, intermediate and superior patisserie, the Grand Diploma and the Patisserie Diploma.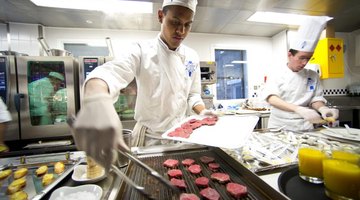 •••
Ben A. Pruchnie/Getty Images Entertainment/Getty Images
Apicius International School of Hospitality
The Culinary Institute at Apicius International School of Hospitality in Florence, Italy, offers a one-year program in baking and pastry, in addition to the "one semester master" program. Florence is well-known for its culinary heritage, and the courses include a strong focus in Italian cuisine and culture, including baking techniques, cakes and tarts.
•••
Rrrainbow/iStock/Getty Images
The Gastronomicom Institute
The Gastronomicom International Culinary Academy is a leading school in French pastry training, located in coastal Cap d'Adge. The courses are all taught at a one-star Michelin level by an experienced and knowledgeable faculty. Students complete the intensive courses, as well as a four-month internship at a luxury hotel-restaurant in France. The four-week gourmet program includes courses in breads, chocolate and plated desserts and decoration. All courses are taught in English.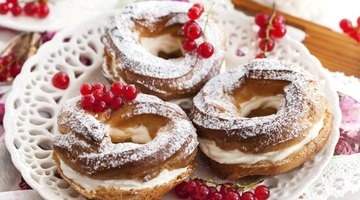 •••
KateSmirnova/iStock/Getty Images
Italian Chef Academy
The Italian Chef Academy, located in Rome, Italy, is an institute focusing on creating qualified professionals in the culinary arts. The courses include both theoretical and practical lessons, in addition to an apprenticeship at distinguished restaurants. The program provides three levels of training, and a teaching plan that includes pastry basics, stuffings, breakfast sweets and decoration techniques. All of the international classes are in English.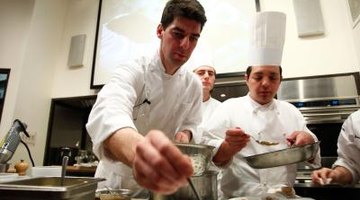 •••
Joe Kohen/Getty Images Entertainment/Getty Images
Related Articles
References
Writer Bio
Gale Marie Thompson's work has been published in "Denver Quarterly," "Los Angeles Review" and "Best New Poets 2012." Thompson holds a BA in English and creative writing from the College of Charleston, a MFA from the University of Massachusetts Amherst, and is working on a PhD at the University of Georgia.