For many Michigan school districts, the "State School Aid Act" making Michigan an official "School of Choice State," as the Mackinac Center for Public Policy explains, is a mere formality; many districts already allowed students the choice to transfer to another school within the district, called open enrollment. A growing trend now, however, is schools who rise to the competitive challenge to create better schools that are open to students of Michigan.
International Academy
International Academy (IA) is ranked the top open enrollment school in 2009 by "U.S. News & World Report" and is 1st place for top international baccalaureate (IB) schools (earning college credit and sometimes even an IB diploma, for which college credit may be granted) in addition to being the No. 2 high school in the nation, also according to "U.S. News & World Report" rankings.
Started in August 1996, IA is in the suburbs of Bloomfield Hills, Michigan, and is a tuition-free public high school open to residents of 20 school districts in Oakland County. Starting in 9th grade, students immerse in rigorous academic, career-related and personal development programs. Additionally, the International Academy is the "first all IB diploma high school in North America," states the academy.
Three campuses provide students unique access to educators and resources. Clubs such as the Black Student Association; Chemistry Olympiad; Gay-Straight-Whatever Alliance; Helping Hands; Jewish Student Association; Model United Nations; and Phoenix Theater Company provide students opportunities to grow, express and become responsible citizens.
International Academy 1020 East Square Lake Road Bloomfield Hills, MI 48304 248-341-5900 iatoday.org
•••
graduation day portrait image by Gina Smith from Fotolia.com
West Michigan Academy of Arts & Academics
Situated in Spring Lake along the shores of Lake Michigan, the Michigan Academy of Arts & Academics focuses on students from kindergarten through 8th grade. Awarded Fox 17 "School of the Week" in 2009, among many other awards for excellence, the academy operates on the principle that "good schools require the Arts," and strives to "provide an outstanding education through the integration of the arts that encourages the success of each child academically and through creative expression," as the school website states.
Tuition-free, the academy keeps class sizes small and focuses on parental involvement. They also encourage outside learning and strive to encourage moral development. In its 14th year as of the 2009-2010 school year, the academy offers open enrollment for two weeks in March each year to Michigan students.
West Michigan Academy of Arts & Academics 17350 Hazel Street Spring Lake, MI 49456 616-844-9961 westmichiganacademy.org
•••
academy of fine arts image by Dmitry Nikolaev from Fotolia.com
Grand Traverse Academy
Located in Grand Traverse along the Grand Traverse Bay of Lake Michigan, the Grand Traverse Academy is a tuition-free open enrollment school serving kindergarten through 12th grade. Opened in 2000 in an unfinished building, with enrollment offered only through 6th grade, the GT Academy now enrolls more than 1,100 students in a building that continually expands to improve on the vision for education they possess.
GT Academy follows Dr. William Glasser's Choice theory, which promotes "relationships based upon trust and respect, students doing work that is significantly beyond competence each year," as the website states, and envisioning school as a happy place. In 2005, GT Academy was one of 18 schools nationwide awarded as a Glasser Quality School. Students continue to learn Spanish from kindergarten on and participate in sports such as hiking and basketball, along with choir and other organizations.
Grand Traverse Academy 1245 Hammond Road East Traverse City, MI 49686 231-995-0665 grandtraverseacademy.mi.schoolwebpages.com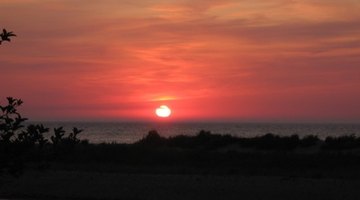 •••
Lake Michigan Sunset image by Michigan Nature from Fotolia.com
Related Articles
References
Writer Bio
Karie Fay earned a Bachelor of Science in psychology with a minor in law from the University of Arkansas at Monticello. After growing up in construction and with more than 30 years in the field, she believes a girl can swing a hammer with the best of them. She enjoys "green" or innovative solutions and unusual construction.