Home to about 30,000 residents, London, Ontario, is a Canadian manufacturing hub. Corporations such as 3M, Brose and General Dynamics Land Systems provide job opportunities for prospective administrators and researchers. The city has two major colleges, a career school and a seminary at which you can further your studies after high school in pursuit of a career.
University of Western Ontario
Founded in 1878, the University of Western Ontario is a major Canadian university with 27,831 students enrolled in 2013. Of those, 2,756 are master's students and 2,021 are doctoral students. The university had $610.9 million in operating revenue in 2013, including $234.7 million in research revenue. The most popular undergraduate track in 2013 was social sciences with 6,648 students, followed by science with 4,334 students and health sciences with 3,183 students. In 2013, the university had 276,928 alumni, including 18,788 alumni living outside Canada. The university employs 1,403 faculty members, including 870 with tenure. The department with the largest faculty is dentistry/medicine with 299.
•••
Hongqi Zhang/iStock/Getty Images
Fanshawe College
The employment rate for Fanshawe College graduates in 2014 was 86.4 percent, above the average for the province of Ontario, 83.4 percent. More than 90 percent of employers in 2014 said they're satisfied with the quality of Fanshawe graduates. More than 77 percent of students surveyed in their second semester or later in 2014 report they're satisfied with their education. Fanshawe enrollment for 2011-12 was 12,438. Of those, 3,197 were first-generation, full-time college students. In the 2011-12 school year, Fanshawe had 315 students from India, 217 from China and 58 from South Korea.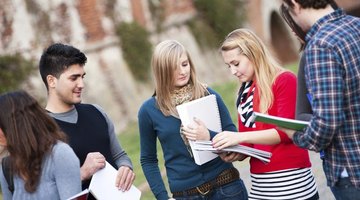 •••
lentolo/iStock/Getty Images
Westervelt College
Westervelt is a career school offering programs in business accounting; business marketing; executive administration; hotel, restaurant and casino management; interior decorating; information technology; law clerking; massage therapy; medical administration; medical technology; office administration; and paralegal studies. The private school was founded in 1885. Graduates have gone on to work for Sears Travel, Budget Travel, Bayshore Home Health and the Canadian Imperial Bank of Commerce. The school has a career services department to help with resume writing, job interview skills, job posting and networking with prospective employers. The campus has free parking, lockers, a student lounge and laboratories for science classes.
•••
shironosov/iStock/Getty Images
St. Peter's Seminary
St. Peter's Seminary provides post-secondary instruction for those who want to become Catholic priests or further their studies in Catholicism. Everyone studying for the priesthood from 2002 to 2012 was given a pastoral ministry assignment upon graduation. During that period, 91 percent of lay students who obtained a master of divinity degree were placed in jobs, mostly as high school or military chaplains. The school was founded in 1912. You'll participate in morning and evening prayers and are expected to allot time for personal prayers daily. The institution organizes prayer retreats for various occasions including an eight-day annual retreat on Lake Erie.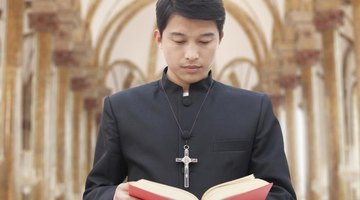 •••
XiXinXing/iStock/Getty Images
Related Articles
References
Writer Bio
Rudy Miller has been writing professionally since 1996. Miller is a digital team leader for lehighvalleylive.com, a local news website and content provider to the Express-Times newspaper in Easton, Pa. Miller holds a Master of Arts in English from the University of Miami.