With the constant presence of television and video games, children don't get many opportunities to play and enhance their imagination. Pretending and using the imagination is an important part of growing up and helps children develop useful skills. When you run a daycare center, it is important to make sure the children who attend get lots of play time instead of just plopping in front of the TV. Prop boxes can encourage imagination and prompt the children to come up with scenarios to pretend. Prop boxes are a lot of fun for the children, and they are easy to make.
How to Make Prop Boxes
Collect several large boxes of the same size; storage boxes work nicely.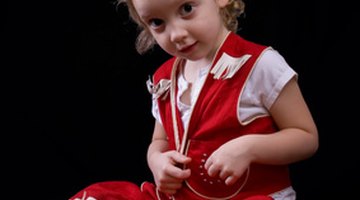 •••
little cowgirl image by Lisa Eastman from Fotolia.com
Come up with a theme for each box, such as restaurant, library, firefighters, veterinarian, kitchen, grocery store, fairy tales, the old west, or anything else that is age-appropriate and that you think will be fun for the children.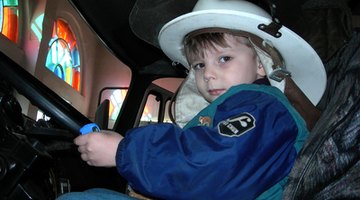 •••
playing boy with uniform of fireman image by Oleg Berlov from Fotolia.com
Search for objects for each theme, and place them in the correct box. You can look for these items in the attic, garage sales and thrift stores. You can ask parents or businesses to donate items. Don't always use toys for the props; children like to use the real things when they are pretending. Suggestions for your prop boxes could include various hats, old uniforms, books, backpacks, cereal boxes, and paper or canvas grocery bags.
•••
drawing at home image by Renata Osinska from Fotolia.com
In each box include a few kinds of literacy props, such as junk mail, maps, notepads, menus, pens or keyboards.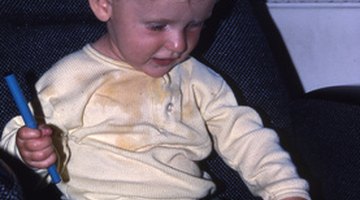 Include various types of mathematical or number props in each box, such as calculators, registers, play money, rulers or tape measures.
For older children, you can include activity binders with suggestions of scenarios they can act out, or you can put pictures of the theme from magazines in the binders. For older kids, you also can enhance education by putting reading material about each theme in the binders. For younger children, you can put in coloring pages and activities that relate to each theme.
Decorate the boxes with pictures of the themes and a title of the theme using glue and pictures from magazines. Or you can let the kids decorate the boxes; that can be one day's activity or lesson.
Tip
Ask the kids what types of objects they would like in their prop boxes or what types of themes they would like to act out.
Warning
Make sure the items are age-appropriate. For example, do not put tiny beads, strings or any small objects in a prop box intended for toddlers.
Related Articles
References
Writer Bio
Naomi Vogel started writing professionally in 2009. Vogel has written for "Volume One," "The Leader Telegram," "Spiral Natural Foods" and "The Student Voice." Vogel has a bachelor's degree in journalism and theater from the University of Wisconsin-River Falls. Vogel received the Journalism of Excellence Award from her university in 2010.