If you are a high school senior in Maryland who just found out that the degree program you are searching for is not offered in your home state, you and your parents are likely stressed about the possibility of paying high out-of-state tuition fees. Before selling the family jewels, you can check with the Southern Regional Educational Board (SREB) and see what programs are offered through the Academic Common Market (ACM) reciprocity program. The program allows you to attend college in one of 15 other states for the in-state tuition rate.
Southern Regional Education Board
The Southern Regional Education Board (SREB) consists of 16 states that have reciprocity agreements. If you live in Maryland and want to go to college in one of the other 15 states, the degree you want must not be available in your state. The SREB website lists the states, colleges and degrees available through this reciprocity program. On the website, simply choose your state of residence, then search by state, college or degree to find a college that offers what you need. A recent search for a resident of Maryland searching all degrees and states in the program produced 242 results.
Southern Regional Education Board: Participating States and Institutions
The states in the SREB are Texas, Oklahoma, Arkansas, Louisiana, Mississippi, Alabama, Florida, Georgia, South Carolina, Maryland, Tennessee, Kentucky, North Carolina, Virginia, West Virginia and Delaware. The colleges in Maryland that participate in this reciprocity program are Coppin State University, Frostburg State University, Morgan State University, Towson University, University of Baltimore, University of Maryland, Baltimore, University of Maryland, Baltimore County and University of Maryland, College Park. Students who attend college through the SREB program pay in-state tuition.
How to Apply
This reciprocity program is also referred to as the Academic Common Market (ACM). Once you find the degree program and college you would like to attend, complete a residency form for your state that is available through your state's ACM state coordinator. This information is on the SREB website. The ACM state coordinator will then provide you with a waiver for out-of-state tuition fees. Submit this waiver along with the standard college application to the college and degree program of your choice.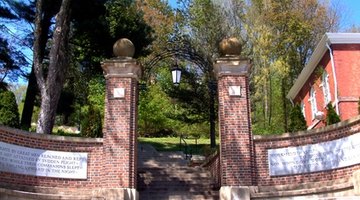 •••
college campus image by Nick Alexander from Fotolia.com
Conditions to Qualify for the Reciprocity Program
The degree program of your choice must not be offered in your home state. The program you are interested in must be offered through another SREB state that participates in the Academic Common Market. Applicants must meet the admissions requirements of the college that offers the program they are interested in. Remember to get certified as a resident of your home state.
Related Articles
References
Writer Bio
Jolene Wipf has been writing professionally since 2003. She has been published in the "Rick Alviti Newsletter" and the "Argus Leader." Wipf has a Bachelor of Arts in accounting and business administration from Augustana College and a Master of Arts in educational ministries from North American Baptist Seminary. She is pursuing a Bachelor of Science in paralegal studies at Globe University.