After the funeral services, family and friends often gather at a nearby home or rented venue. Breaking bread together is a comforting tradition in many cultures, where the loved ones and friends meet, eat and drink while they remember the one who's gone on ahead. Depending on the family, their traditions and size of the gathering, preparing foods varies from a selection of appetizers to a full buffet meal.
Appetizers and Finger Foods
•••
Eising/Photodisc/Getty Images
A selection of appetizers and finger foods provide a light repast for the mourners as they gather together. Serve at least six to eight appetizers per person. Set up a buffet with trays of appetizers or hire servers to serve the appetizers to the guests. Shrimp cocktail, toasted baguette slices with goat cheese, and sun-dried tomatoes, teriyaki chicken or beef on bamboo skewers or lumpia with sweet chili sauce are all easy-to-serve appetizers. Traditional finger foods include deviled eggs, a vegetable tray with dip or a cheese-and-cracker tray. Several trays of cookies and coffee, lemonade, sweet tea and bottled water complete the buffet.
A Light Lunch or Dinner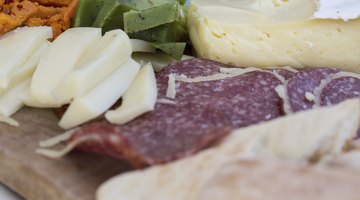 •••
bikfoto/iStock/Getty Images
Arranged buffet-style, trays of meat, cheese, breads and condiments allow guests to make their own sandwiches. Alternately, trays of favorite sandwiches, from egg salad to turkey roll-ups to ham and cheese, allow guests to move quickly through the buffet line. Add salads to the buffet, such as gelatin with fruit, spring greens with tomatoes, pasta or potato, or sliced heirloom tomatoes with mozzarella balls and balsamic vinaigrette. A cake or pies, homemade cookies and a selection of beverages complete a light meal for the mourners.
A Full Buffet
•••
Fedor Kondratenko/iStock/Getty Images
Planning a full buffet meal for the mourners varies according to the culture and traditions. Southern cuisine calls for chafing dishes of sliced meats, pulled pork, macaroni and cheese and jambalaya, while a West Coast-style buffet might include grilled boneless chicken breasts or tri-tip, salmon, and roasted fingerling potatoes or vegetables. Add salads, sliced artisan breads and fresh fruits. Complete the buffet with a cake or pies, such as pecan, apple, cherry or banana cream.
The Potluck
•••
.shock/iStock/Getty Images
In many families, a potluck is the traditional funeral reception meal. Encourage the cooks to use disposable pans to ease the cleanup after the guests have gone home. Baked pasta dishes, enchiladas, sweet and sour chicken with rice, fried chicken, and ribs with baked beans are among potluck favorites. Arrange the buffet with the salads first, from gelatin to pea to potato, and then the hot foods. Follow with condiments and breads. Set up a separate dessert table for a sheet cake, pies and cookies. Be prepared with additional disposable pans, aluminum foil and plastic wrap to pack up the leftovers for the grieving family's refrigerator or freezer.
Related Articles
References
Writer Bio
With degrees in fine and commercial art and Spanish, Ruth de Jauregui is an old-school graphic artist, book designer and published author. De Jauregui authored 50 Fabulous Tomatoes for Your Garden, available as an ebook. She enthusiastically pursues creative and community interests, including gardening, home improvement and social issues.