The Scots, known for their love of deep-fried foods and sweets, claim fame to the iconic deep-fried Mars bar. Great sweets aside, the Scots also consume food such as bangers, tatties, smokies, blood pudding and the infamous haggis that are traditional to their culture, reflect the Scottish land, lakes and sea, and are prepared in ways that include both Celtic and Norse influences.
A Scottish Breakfast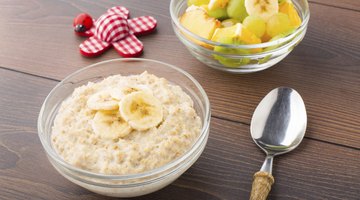 •••
VankaD/iStock/Getty Images
Porridge made with a pinch of salt rather than sugar is a breakfast staple for many Scots. However, in recent years, porridge has been replaced with commercial cereal or toast. A traditional Scottish breakfast may include food such as a Lorne sausage made from pork or beef, a rasher of bacon -- similar to thinly sliced ham -- kippers, a cold smoked herring, bangers (sausages) and eggs. Traditional accompaniments include tattie (mashed potato) scones, fried mushrooms, grilled tomatoes, baked beans and black pudding (blood sausage) made from suet, oatmeal and animal blood.
Lunch and Fast Food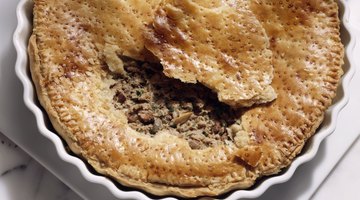 •••
Eising/Photodisc/Getty Images
Most common for lunch are meat pies, sandwiches and hearty soups such as Scotch broth made with barley, lamb, mutton or beef and root vegetables, and cock-a-leekie soup made with chicken and leeks. However, when dining out pub style, Scots also enjoy a plethora of deep-fried foods such as deep-fried hamburgers, deep-fried haddock and chips (fries), and deep-fried haggis and chips. Fast food includes curries, kebabs and haggis or meat pies, served either baked or deep-fried.
Traditional Scottish Fare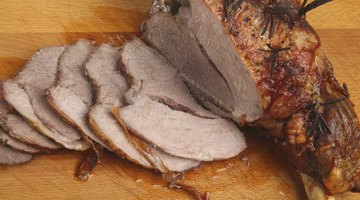 •••
JoeGough/iStock/Getty Images
Traditional Scottish suppers include Aberdeen Angus beef, roast lamb, venison and haggis. Haggis, a savory pudding, is Scotland's national dish immortalized by famous poet Robert Burns. Haggis is made from the minced entrails and internal organs of sheep, pigs or cows, and mixed with suet, oatmeal and seasoning. Although traditionally boiled in the stomach of the slaughtered animal, today, haggis is stuffed into casing, boiled and served with neeps (mashed turnips) and tatties. You may find wild game such as pheasant, grouse, partridge, pigeon and rabbit on a Scot's dinner table. Seafood favorites include salmon, haddock, trout, mackerel, herring and smoked haddock known as smokies. Vegetable sides include cabbage, cauliflower, peas, leeks, turnips, potatoes and carrots.
Scottish Sweet Tooth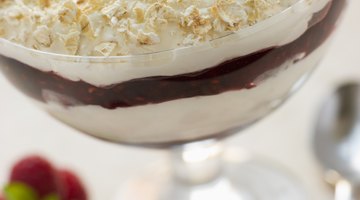 •••
Monkey Business Images/Monkey Business/Getty Images
The Scottish are credited for inventing the first deep-fried Mars bar, according to Rough Guides. Other favorite Scottish desserts include cranachan made from fresh raspberries, whipped cream, honey and toasted oats; and clootie dumpling, a traditional rich, fruit pudding served with cream and a shot of whiskey. Sweet treats include tablet, a fudge-like candy that's ultra sweet, grainy, hard and flavored with vanilla and nuts; and melt-in-your mouth shortbread, traditionally baked flat, pricked with a fork and dusted in sugar.
Related Articles
References
Writer Bio
Katherine Macropoulos has authored two books; a fictional, young reader and a spiritual autobiography. Her areas of expertise include food, beauty and style, travel, culture and society, business and spirituality. Macropoulos holds a Bachelor of Arts in English, a diploma in photography, graphic design and marketing and certification in esthetics.