When earning your PhD in business, you will need to identify possible dissertation topics by the second year of your program. Your chosen topic should be one that adds to the current literature in the field, rather than reproducing the research of others, so you will need to think creatively. You will want to make sure that you have a solid background of knowledge, both general and specific, since your dissertation should be specialized and should reflect mastery of the field.
Topics
As you are considering your topic, keep in mind dissertation topics may vary greatly. Your choice of topic should be based both on your interest and your expertise. It also should coincide with the expertise of the faculty on your dissertation committee. Some of the broad topics you might write on include globalization, international business, small business, small scale business theory, business expansion, marketing strategies and solutions, and the role of women and minorities in business. You may also consider more specialized areas.
Health Care Management
One specialized area you can research for your dissertation is the future of health care reform. These reforms are often based on business models -- as hospitals and health care providers are being forced to reduce all operational costs, health care executives look to business for intelligent solutions. In short, health care providers will be forced to maximize profits while maintaining quality of care. Some of the topics you might pursue in this area include business intelligence and real-time data analysis in health care; the health care industry's use of business models; the relationship between business intelligence and physicians; hospital access in urban areas versus financial viability; and revenues and investment in the hospital Industry.
Insurance
The insurance industry might also provide a good dissertation topic. This topic will be particularly well-received by dissertation committees because of the insurance reforms mandated by the Affordable Care Act. You could focus on its effect on small businesses. Another good possibility would to analyze the effects of the act on American employees who are no longer insured by an employer-sponsored, privatized system. Other possible topics include making health insurance attractive to small business, comparing insurance premiums in the Northeast to the South, the ill effects of health care costs on small businesses, and small businesses and Affordable Care Act.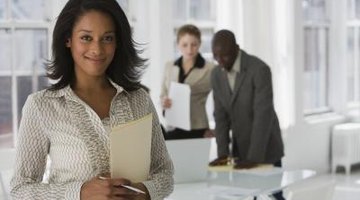 Women in Business
An increasing focus in business is low-income women. The Small Business Administration currently assists in this area. Its creation of the Women's Business Center, or WBC, program helps with the training of financially disadvantaged women who are potential business owners. You might examine how effective such centers are in addressing gender inequality. The following lists suggests other topics for dissertations pertaining to women: women breaking into male dominated fields, such as engineering; women in the music industry; African American female business owners by region; women in the workplace during wartime; and job satisfaction among women.
Overview
These are but a few of the possible topics that you can pursue for a business dissertation. The most important aspect of dissertation writing for you is to do your research before you ever start writing. Consult your library's databases to see what the popular dissertation topics have been in the past five years. Then consult your dissertation director. The surest predictor of failure is a topic that is either too specific or too broad.
Related Articles
Writer Bio
Anthony Fonseca is the library director at Elms College in Massachusetts. He has a doctorate in English and has taught various writing courses and literature survey courses. His books include readers' advisory guides, pop culture encyclopedias and academic librarianship studies.