As is the case with any would-be teacher, those seeking to become physical education teachers must graduate from an accredited college. In addition to the core subjects that all college students take, physical education majors must take a course load that consists of science courses, educational philosophy, statistics, methods courses, activity courses and other elective courses. However, there is flexibility in course offerings in each of these categories. Basically, all the course requirements can fit into four categories: core, major, activity and methods.
College Core Courses
Core college classes may include course work in the disciplines of English, math, science, foreign language and history. College and universities may differ in the actual course title or content, but quarter or semester hours devoted to these subjects are generally required. Additionally, as part of the core classes, students are required to take a specific number of hours of social science (psychology, sociology, education, communication, political science, etc.).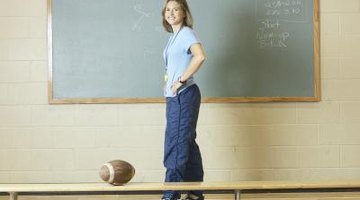 Major Specific Courses
Kinesiology, anatomy, physiology, biology, chemistry and other health science courses serve as the backbone of the major course work for a physical education major. These courses provide information related to physical health, physical movement and structure and function of the body. These courses help to provide a clear connection between health and physical education. This background is necessary because most physical education teachers also are certified to teach health.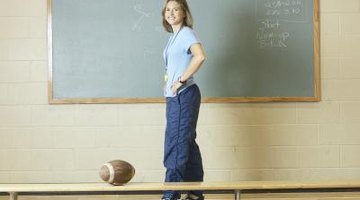 Activity Courses
Activity classes allow students to participate in an activity or sport. Many colleges offer a wide variety of activity courses. Some colleges offer specific activity classes "for physical education majors only" so that, how to teach, can be included in the course work. Physical education majors may be required to take six or eight activity courses in addition to the academic course work. These classes are useful in that students can choose to take classes that cover activities that they may be eventually asked to teach.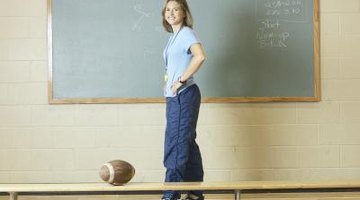 Methods Courses
Methods courses deal with the use of teaching and learning strategies that may be implemented in a classroom. Students are exposed to topics such as differentiation, standards-based education, project-based education, formative and summative assessments and classroom management strategies. These classes are sometimes geared specifically to the physical education major, but may be geared to any students attempting to qualify for a teaching certificate.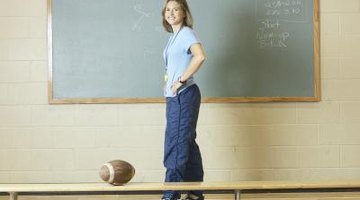 Related Articles
References
Resources
Writer Bio
Katherine Bradley began writing in 2006. Her education and leadership articles have been published on Education.com, Montessori Leadership Online and the Georgia Educational Researcher. Bradley completed a Ph.D. in educational leadership from Mercer University in 2009.