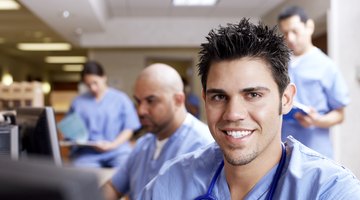 Despite the fluctuating economy, nurses remain in high demand. The U.S. Bureau of Labor Statistics reports that the profession remains strong and will continue to grow faster than all occupations through the year 2020. This means that if you earn your degree, you can get a job. There are distinct advantages to getting your nursing degree at a community college that you should take into consideration before you apply.
Time
Enrolling in a community college means you'll complete your degree in about two years, assuming you remain enrolled on a full-time basis. Unlike four-year programs that usually don't allow students to declare nursing as a major until the junior year, once you're accepted to a community college's nursing program, in most cases, you can hit the ground running. However, community college nursing programs require you to complete prerequisites such as English, math, psychology and social sciences; this might add an extra semester or year to your studies.
Cost
Community colleges charge students lower tuition and fees than four-year private or public colleges. A 2013 American Association of Community Colleges report indicated that you'll pay around $5,500 less to pursue your nursing degree at a two-year college than at a four-year college. If you qualify for financial aid, products such as the Pell Grant might cover most or all of your tuition.
Location
If you just graduated from high school, you may be excited to move away from home to attend nursing school, but if you're a working adult with a family, moving probably isn't an option. Community colleges are situated for the specific purpose of serving a jurisdiction's higher education needs. If you live in a high-population area like New York City or Los Angeles, you'll have several community college nursing programs from which to chose. In a less populated area, you might have a short commute to get to a community college that offers nursing. Because these programs cater to adult learners, you will likely find nursing programs that offer day, evening and weekend options.
Considerations
The demand for nursing education programs remains high, and the convenience and competitive pricing provided by public two-year institutions makes these programs highly sought-after by students. As a result, you might encounter tough program entrance qualifications and stiff competition among your fellow nursing school applicants. In some cases, even if you qualify for nursing school admission, you might be placed on the community college's waiting list. Keep your options open by applying to all the community college nursing programs in your area.
2016 Salary Information for Registered Nurses
Registered nurses earned a median annual salary of $68,450 in 2016, according to the U.S. Bureau of Labor Statistics. On the low end, registered nurses earned a 25th percentile salary of $56,190, meaning 75 percent earned more than this amount. The 75th percentile salary is $83,770, meaning 25 percent earn more. In 2016, 2,955,200 people were employed in the U.S. as registered nurses.
Related Articles
References
Writer Bio
Maya Black has been covering business, food, travel, cultural topics and decorating since 1992. She has bachelor's degree in art and a master's degree in cultural studies from University of Texas, a culinary arts certificate and a real estate license. Her articles appear in magazines such as Virginia Living and Albemarle.