Baptist colleges provide students training and instruction in the Bible and such aspects of Christian ministry as church leadership, preaching and music. Supported as ministries of independent or non-affiliated Baptist churches, some colleges offer tuition-free education, with students responsible for fees only to cover the costs of course materials and the school's overhead expenses. The colleges and their sponsoring churches adhere to the King James Version of the Bible as exclusive authority for Christian doctrine and personal faith in Jesus Christ as the sole means of salvation, or forgiveness of sin.
Bethany Baptist College and Seminary
Bethany Baptist College and Seminary offers instruction for on-campus and extension (distance) students. The latter group of students can take classes from home and have up to nine months to complete a course. Distance learners receive classes by email or regular mail. Bethany awards four-year bachelor's degrees in theology and the Bible, master's degrees in theology, religious education and divinity and doctoral degrees. Although Bethany is tuition free, the school charges a $10 "fee" per course to cover course materials and equipment.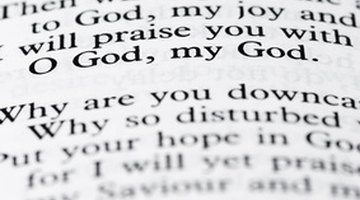 •••
text of the bible image by Alexey Klementiev from Fotolia.com
Fellowship Baptist College
Fellowship Baptist College structures its curriculum for every student to major in the Bible. The college offers minors in theology, missions, Christian education and music. Other classes include United States history, personal finance, methods of Bible study, computer applications, Greek and Hebrew. Fellowship Baptist College bills itself as a trainer of preachers, asserting that Princeton, Harvard and Yale Universities started as schools that trained ministers. Fellowship, a ministry of the Good Shepherd Baptist Church, is located in Mooresville, Indiana, approximately a 15-minute drive from Indianapolis.
Great Plains Baptist Divinity School
Its website proclaims Great Plains Baptist Divinity School as "A Citadel of Truth." The school describes as part of its purpose training students to serve churches that follow the "New Testament historic Baptist faith and practice," which the school posts on its "Statement of Faith" page. Great Plains receives support from churches that share Great Plains' view of the Christian faith. Great Plains offers bachelor's degrees in theology/pastoral science, general studies, religious education and school education, as well as master's and doctorate degrees. The Empire Baptist Church serves as Great Plains' campus, located in Sioux Falls, South Dakota.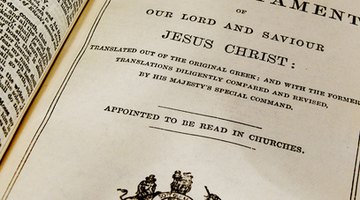 Hyles-Anderson College
Hyles-Anderson College offers tuition-free instruction to freshman and sophomores through its "Jericho Plan." The program promises a structured schedule, time to focus on academics rather than needing jobs to pay tuition, and support from college and staff. Students also gain exposure to the activities of the First Baptist Church of Hammond, Indiana, which operates the school. While students do not pay tuition for the first two years, the school does assess fees of $1,500.00 per year for academics and books. Majors include elementary education, marriage and motherhood, missions and music education. The 107-acre campus is located in Lake County, Indiana, less than one hour by vehicle from Chicago.
Related Articles
Writer Bio
Christopher Raines enjoys sharing his knowledge of business, financial matters and the law. He earned his business administration and law degrees from the University of North Carolina at Chapel Hill. As a lawyer since August 1996, Raines has handled cases involving business, consumer and other areas of the law.