Several law schools offer courses in sports and business management, but only a handful have complete sports law programs that focus specifically on the business, legal and ethical issues pertinent to all levels of athletics.The law schools that do offer this specialization are located all over the country and provide unique learning experiences for interested students.
Tulane University
Ranked 46th by U.S. News and World Report in 2014, Tulane University Law School in New Orleans, Louisiana, holds the distinction of offering the first sports law certification program in the United States. Tulane's Sports Law Program provides candidates with opportunities to gain extracurricular experience in the sports world. The program combines specific networking, academic studies and practical training in areas such as legal writing that prepare students for a career in sports law after graduation.
•••
XiXinXing/XiXinXing/Getty Images
Marquette University
In Milwaukee, Wisconsin, Marquette University Law School offers a sports law concentration for any law student interested in pursuing a sports law certificate. Marquette says it has the country's most comprehensive offering of sports law courses, and graduates have gone on to work with Nike, Major League Baseball, the NCAA and the United States Olympic Committee. Students who earn a sports law degree from the university are eligible for certification from the National Sports Law Institute.
•••
nandyphotos/iStock/Getty Images
Arizona State University
Brand new to the sports law game, Arizona State University's Sandra Day O'Connor College of Law ranked No. 31 for 2014 on the U.S. News and World Report list. Located in Phoenix, the law school offers Master of Legal Studies, Juris Doctor and Master of Laws degrees with an emphasis on sports law and business. The school offers externships depending on the type of sports law students are interested in pursuing.
The University of Oregon
The University of Oregon in Eugene offers students inspiration from prominent alumni including Nike founder Phil Knight, who graduated from the university's business program. Candidates in its sports law program gain a practical and theoretical understanding of issues facing all levels of sports, and often gain employment with companies such as Nike and Adidas after graduation.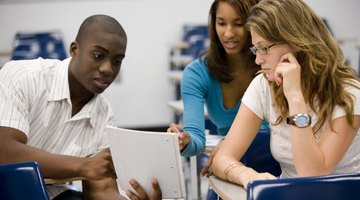 •••
Purestock/Purestock/Getty Images
St. John's University
St. John's University in Queens, New York, offers a Master of Laws in International and Comparative Sports Law. The first of its kind in the United States, the program is jointly offered with the Instituto Superior de Derecho y Economia, one of Spain's top law programs. The program includes a semester of full-time work with a sports law firm, team, league or regulatory body, such as the NCAA. Starting in 2015, the school will offer a Masters of Law in Sports Laws.
•••
Jack Hollingsworth/Photodisc/Getty Images
Related Articles