College rankings on TheClassroom.com use recent data about four-year colleges from publicly available sources using transparent methodology. This is a ranking of colleges by diversity score in descending order. Only colleges that are selective are included. See if your school is in the ranking!
The Most Diverse Selective Colleges
The Most Diverse Selective Universities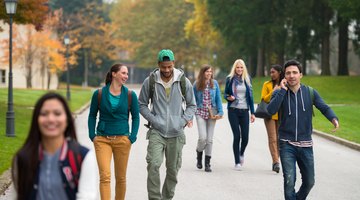 In their quests for the very best of the best, these colleges and universities embrace diversity and inclusiveness, seeking out the most gifted and talented learners from the U.S. and the world across all races, ethnicities, religions and other underrepresented groups. Attending any one of these schools will provide exceptional learning opportunities in an environment with faculty and students from different cultures, backgrounds and experiences.
Here are 20 of the most diverse selective universities in the U.S. To read more and learn about our methodology behind the study, dive into The Most Diverse Selective Universities.
Pomona College, located just 35 miles from downtown Los Angeles, is a private liberal arts college with an enrollment of 1,670 students. Pomona is widely recognized as a diverse college not only because of its efforts in recruiting students of underrepresented races and ethnicities but also because of the opportunities it provides to low-income and first-generation college students. According to the school's website, half of the student population is made up of people of color, and an impressive 17 percent are first-generation college students. Pomona is No. 1 on the list of 2019 most diverse colleges in America and No. 5 in the U.S. News & World Report ranking of best national liberal arts colleges in 2019.
Columbia University, one of the oldest and most respected research colleges in the country, is located in one of the most vibrant and culturally diverse cities in the U.S. Columbia offers a multitude of organizations, offices and programs dedicated to maintaining the rich diversity among its student population. The school houses the Multicultural Recruitment Committee that helps in the recruitment of underrepresented populations. Columbia is associated with Barnard College for women, the Union Theological Seminary and the Jewish Theological Seminary of America. The university is No. 4 on Best College's list of America's most diverse colleges.
Stanford University, founded in 1885, is located in Silicon Valley, about 30 miles from San Francisco. The total student population is 16,400, 7,000 of whom are undergraduate students. Women make up more than 60 percent of the school's total enrollment. Stanford's Center for the Study of Ethnicity and Race supports and fosters out-of-the-box thinking about race and ethnicity in order for students to be more aware and inclusive in both national and global societies. The school offers a wide variety of organizations and offices geared toward its unique, diversified student population, including the Center on Poverty and Inequality, the Clayman Institute for Gender Research and the Diversity and First-Gen Office.
The University of California, Los Angeles, also known as UCLA, was founded in 1919 and has an undergraduate enrollment of more than 31,000 students, 57 percent of whom are women. Of the total student population of 45,428, nearly 20 percent are Hispanic/Latino, and 30 percent identify as being of Asian descent. For the fall 2018 semester, the number of African-American applicants increased 13 percent, Latino applicants rose by 10 percent and American Indian applicants rose by 6 percent. Not only is UCLA the most popular of the seven schools in the University of California system, it ranked No. 2 on America's most diverse colleges of 2018 list.
Harvey Mudd College, one of the country's top math, science and engineering undergraduate colleges, was founded in 1955 by mining engineer Harvey S. Mudd. The school offers only Bachelor of Science degrees, and its intimate student population of just 850 makes it one of the smallest selective schools in the U.S. The college is dedicated to attracting and maintaining a diverse student population in part because so many of its graduates go on to work in the fields of science, technology, engineering and math, or STEM. These fields have historically lacked the presence and leadership of such underrepresented groups as African Americans and women.
Carnegie Mellon University is a private college located in Pittsburgh that was founded in 1900 by Andrew Carnegie, a well-known industrialist and philanthropist. The current undergraduate enrollment is 6,804. Nearly 25 percent of the university's students come from outside the U.S. The school offers majors such as global studies and international relations and politics and a minor in African and African-American studies to prepare students for global success. One on-campus program that promotes diversity and equity is Building Our Network of Diversity, a group of faculty and administrators who work in conjunction with admissions in the recruitment of students from underrepresented populations.
Massachusetts Institute of Technology, founded in 1861, is a private, research-based school best known for its technology and science-related programs. The engineering program is not only the largest but also the highest ranked of MIT's five colleges. The undergraduate enrollment is 4,547, of which 14 percent are Hispanic, and more than 26 percent identify as Asian. MIT is very selective and only accepts 8 percent of undergraduate applicants. The school's Institute Community and Equity Office works to cultivate a community of diversity by organizing events and offering opportunities for awareness. In keeping with MIT's commitment to inclusion and equity, all restrooms on campus are unisex.
Wellesley College, located just 12 miles outside of Boston, has a 2018 to 2019 undergraduate enrollment of 2,350 students. The college promotes equity and embraces diversity through such programs and resources as the Initiative for Diversity and the Office of Intercultural Education. Unique to Wellesley is the Davis Degree Program, which was designed to meet the needs of women 24 and older who want to further their education. These Davis Scholars are also from diverse backgrounds in terms of race, ethnicity and socioeconomic status. Through this one program, the college cultivates the inclusion and equity of women, students of a nontraditional age and commonly underrepresented populations.
Johns Hopkins University was founded in 1876 as the nation's first research institution. The number of undergraduates enrolled for 2018 to 2019 is 6,109. Of those students, 30 percent are Asian/Pacific Islander, 14 percent are Hispanic, 11 percent are black and international students make up another 11 percent. In 2016, the university drafted the JHU Roadmap on Diversity and Inclusion which serves as a guide in achieving the school's goals in creating and maintaining equity for every student. JHU's Center for Diversity and Inclusion houses the Office of Multicultural Affairs, Campus Ministries, LGBTQ Life and Women and Gender Resources which are all representative of the school's commitments to diversity.
California Institute of the Arts, commonly known as CalArts, is a private school located in Santa Clarita. The school was founded in 1961 and is consistently ranked as one of the best U.S. schools for students in the arts. CalArts strives to increase cultural awareness in all areas of the campus community by including a varied population of underrepresented students. On-campus organizations such as Mi Gente – Latin Student Union and the Queer Arts Collective help to create an inclusive campus climate for its creative and artistic students. Its Equity and Diversity Committee serves as a common ground for open communication between students and faculty.
Rice University was founded in 1912 and is located in Houston, Texas. It is recognized as a small but well-regarded research university and offers 50 different undergraduate majors. The university's Commitment to Cultural Inclusiveness document promotes the respect and understanding of ethnic and cultural traditions from all over the world. It also cultivates thoughtful, educated understandings of underrepresented groups that have historically gone unrecognized. A few of the student organizations at Rice University that promote diversity and equity are the South Asian Society, Muslim Student Association and the National Society of Black Engineers. Rice is ranked fifth on the list of America's most diverse colleges.
Cornell University is a private Ivy League school that was founded in 1865 by Ezra Cornell and Andrew Dickson White. Its 745-acre campus is located in Ithaca, New York. Students from every U.S. state and over 120 countries make up the undergraduate enrollment of 14,907. Eleven percent of the total undergraduate population come from other countries to attend the university. Of the class of 2020, over 44 percent identify as people of color. To address the worries and concerns of specific students, Cornell recently published individual statements on its website that address deferred action for childhood arrivals, undocumented students and the U.S. immigration travel ban.
The University of California, Berkeley, which is one of the nine universities in the University of California system, was founded in 1961 in a location overlooking the San Francisco Bay. The school offers 289 undergraduate programs, and the total number of undergraduates tops 29,000. Nearly one-third of all UCB undergraduates receive Pell Grants. Fifty-three percent of the undergraduate population are female while 40 percent are Asian and 13 percent are Hispanic. In addition, 28 percent of undergrads are first-generation college students. UCB's student population is also diverse when it comes to non-native English speakers and representation of the LGBTQ community.
University of Southern California is a private, highly-regarded research university located in the artistic and culturally vibrant city of Los Angeles. Founded in 1880, USC's 19,170 undergraduate students can choose from 190 majors that span 22 schools. USC is nationally recognized as enrolling more international students that any other university in the U.S. International students make up 25 percent of undergraduates while 53 percent are women and 13 percent identify as Hispanic. USC's student organizations, such as Academic Bible Study, the African American Cinema Society, the Japanese Student Association of USC and the Muslim Student Union, help to promote inclusiveness on campus.
Harvard University was founded in 1636, making it the oldest institution in the U.S. Over 60 percent of its 6,766 undergraduates benefit from the $160 million awarded as part of the school's impressive financial aid program. Harvard's Office of Education and Diversity Support gives students and faculty access to workshops and dialogues to encourage better understanding of inclusiveness and diversity within the Harvard community. In addition, the Undergraduate Minority Recruitment Program is staffed by current undergraduates and focuses on expanding understanding and providing information regarding the university's diverse student population. The program provides information to middle and high school students about Harvard and its application process.
Swarthmore College is a private school situated on a 425-acre campus just outside of Philadelphia and is currently ranked third on U.S. News & World Report's 2019 list of best national liberal arts colleges. As of fall 2018, the undergraduate enrollment is 1,641. Of that population, 13 percent are Hispanic, another 13 percent are international students and 6 percent are African American. The Black Cultural Center, the Office of Diversity, Inclusion and Community Development and the First in Family Program, which provides resources to first-generation students, are among the college's many diversity-promoting efforts.
Amherst College is located in Amherst, Massachusetts and offers 40 majors to its undergraduate population of 1,836. First-generation college students make up 11 percent of Amherst students, and 45 percent identify as people of color. The college's Office of Diversity and Inclusion aims to cultivate a thriving campus community by its efforts to recruit and retain underrepresented groups. Amherst's innovative I Belong project is a photography and diversity project for which students told their personal stories in pictures as related to their sense of belonging at Amherst. Amherst ranks No. 4 on the list of 2019 most diverse colleges in America.
The American Musical and Dramatic Academy, the flagship campus of the AMDA system, started as a musical theater school in Manhattan in 1964. In 2003, the successful Los Angeles campus, AMDA College and Conservatory of the Performing Arts, was founded. The creative and culturally diverse artistic atmosphere of New York City is largely represented among the AMDA's more than 1,400 undergraduate students. Of the student population, 14 percent are black, and another 14 percent identify as Hispanic. Both campuses offer two-year performance certificates and four-year Bachelor of Fine Arts degrees in acting, music theater and dance theater, and students have the unique opportunity to study at one or both campuses. All AMDA students must audition to be considered for admission.
Babson College, located in the greater Boston area of New England, was founded in 1919. It has a total undergraduate enrollment of 2,342. The student population is considered to be quite global-minded, as around 50 percent of undergraduates will study abroad. Twenty-four percent are international students from 77 countries. In addition, 20 percent are first-generation college students while 31 percent are students of color. A group of Babson student leaders, known as Community Unity Educators, is dedicated to diversity, equity and inclusion. Babson was No. 1 on Forbes's list of best colleges for international students in both 2016 and 2017.
Claremont McKenna College is a private liberal arts college located in Claremont, California, 35 miles east of Los Angeles. The school offers over 60 clubs and organizations to its undergraduate student population of 1,338. The student population is comprised of 17 percent first-generation college students while 15 percent are Hispanic and another 11 percent are Asian. The college's innovative Civility, Access, Resources, and Expression Center is an on-campus organization that promotes thoughtful education and engagement through civil communication across a variety of diverse groups in all communities. CMC ranks No. 9 on U.S. News & World Report's list of 2019 best national liberal arts colleges.
The Most Diverse Selective Colleges - Complete List