Technology has significantly influenced the way Americans use libraries. Information resources are retrieved differently in an online library than in a traditional library. Traditional libraries offer print and electronic versions of books, magazines, research databases and newspapers, but credible, trustworthy and reliable information also can be obtained electronically using online libraries. In most cases, information access generally depends on your preferences.
Traditional Editions
Traditional libraries are brick-and-mortar buildings containing a mixture of print and online resources. Usually, customers are required to physically visit the library to receive services and use resources. Use of print materials and interaction with staff is limited to the library's hours of operation. In addition to offering users a variety of print resources, many traditional libraries allow customers access to e-books, tablets, online library catalogs, and electronic databases.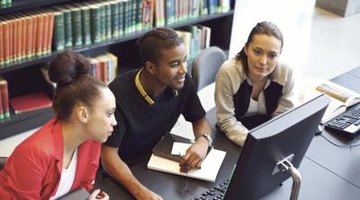 •••
AmmentorpDK/iStock/Getty Images
Virtual Volumes
Virtual or online library users have access to materials 24 hours a day, seven days a week. Some people gain access to online libraries while enrolled at a college or university. For example, the University of Phoenix's online library provides students with resources, such as 45,000 periodicals and more than 800 e-book selections. Other library users access online library services provided by their local public library. The New York Online Virtual Electronic Library, for example, is available only to residents with library cards or New York state driver's licenses.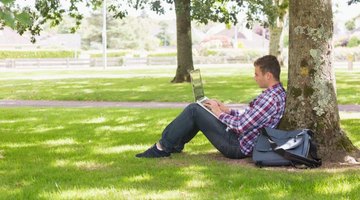 •••
Wavebreakmedia Ltd/Wavebreak Media/Getty Images
Cultural Collections
Many traditional libraries have special collections. Special collections are distinctive and include items such as rare books, archives and special manuscripts. For instance, the W.E.B. DuBois special collection housed at Fisk University in Nashville, Tennessee, contains original manuscripts of DuBois' books and materials related to his work at the NAACP. The Atlanta-Fulton County Public Library System has the Georgia History Collection, which features materials associated with the history and culture of Atlanta, Georgia, and the Southeast in general.
•••
Christopher Furlong/Getty Images Entertainment/Getty Images
Tech Savvy Services
Online library users have the opportunity to connect with librarians via chat or email services wherever an internet connection is available. For the tech savvy, online libraries are an essential resource for obtaining materials to satisfy their information needs. Through the Ask a Librarian service, customers browsing the Library of Congress' website can chat with librarians about specific topics during certain times of day. Small library systems such as Cecil County Public Library in Maryland are connected to a statewide system that allows library users to email and chat with librarians at their convenience.
•••
funstock/iStock/Getty Images
Related Articles
References
Writer Bio
Cassandra Ifie is a librarian living in Richmond, Va. She has also been a writer since 2008. Ifie received her Master of Library Science degree from Texas Woman's University and earned a Bachelor of Arts in sociology from Rust College.