The state of Maine, also known as the Pine Tree State, is favored by many tourists for its beautiful lighthouses and diverse natural beauty. Maine is bordered by the state of New Hampshire, the Canadian provinces of New Brunswick and Quebec, the Gulf of Maine and the Atlantic Ocean. One of the most popular foods in Maine is fresh lobster.
Geography and Population
At approximately 30,861 square miles, Maine ranks 39th out of the 50 states in size. Its most populous city is Portland. According to the United States Census Bureau, Maine had a population of 1,328,361 as of 2010. The highest point of elevation in the state is Mt. Katahdin, which marks the northern end of the Appalachian Trail.
•••
jdwfoto/iStock/Getty Images
Industry
Maine's economy is largely dependent on agriculture, ship building, fishing, footwear, machinery, electronics and tourism. Its primary agricultural product is potatoes, and its primary fisheries product is lobsters.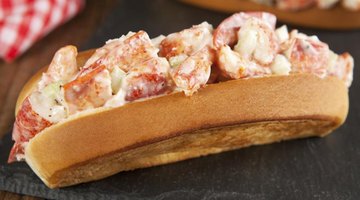 •••
og-vision/iStock/Getty Images
Tourist Attractions
Arcadia National Park is the second-most visited national park, according to Maine.gov. Arcadia contains mountains, lakes, streams, forests, the ocean and islands. Maine has more than 60 lighthouses along its rocky coastline. The most famous lighthouse is the Portland Head Light, which was built from 1787 to 1790, making it Maine's oldest lighthouse. The poet Henry Wadsworth Longfellow's childhood home can be found in Portland. Built from 1785 to 1786, the Longfellow house is the oldest structure on the Portland Peninsula, according to the Maine Historical Society.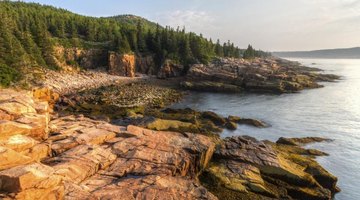 •••
lightphoto/iStock/Getty Images
Symbols and Emblems
Maine has a set of state symbols. Its state animal is the moose, and the state bird is the black-capped chickadee. The state flower is the white pine cone and tassel, while the state berry is the wild blueberry. Maine's official flag consists of a deep blue field with the state's coat of arms in the center. The coat of arms depicts a farmer and a seaman, with a shield between them. On the shield is a pine tree, a moose, green grass, a blue sky and dark blue water. Above this is a yellow star and a red ribbon containing the word "Dirigo," which means "I direct" in Latin. Below, on a large blue ribbon, is the word "Maine."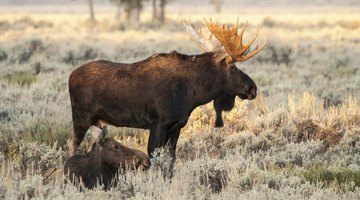 •••
XKarDoc/iStock/Getty Images
State Celebrities
Many famous actors and authors were born or lived in Maine. Some of the famous actors include Patrick Dempsey and Judd Nelson. Famous authors include Stephen King, author of horror and suspense novels, including "Carrie"; Harriet Beecher Stowe, author of "Uncle Tom's Cabin"; and E.B. White, author of the children's book "Charlotte's Web."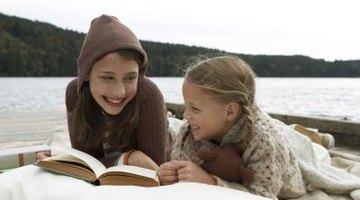 •••
Noel Hendrickson/Digital Vision/Getty Images
Related Articles
References
Writer Bio
Aubrey Warshaw has experience working in federal, state and local levels of government. He has a Master of Public Policy and a Bachelor of Arts in political science. Warshaw's written work includes policy briefs for a 9-12 institution, letters to constituents and various reports involving policy issues such as education and poverty.