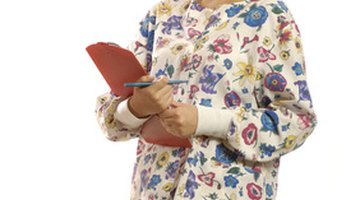 Gaining admission to nursing school is not automatically guaranteed to students who get accepted to a particular college or university. Nursing school admission is usually separate from school admission. According to the Bureau of Labor Statistics, the median annual salary of registered nurses was $75,330, as of May 2020. The job market for nurses is expected to grow at a rate nearly triple the average for all other professions.
Complete your general education requirements and maintain the minimum grade point average required by your college's nursing school. Requirements for nursing school applicants vary from school to school. General education courses usually include studies in a wide variety of areas. Most colleges will require you to take courses in English, math, science, history, the humanities, psychology, communications and sociology.
Take the necessary prerequisite courses in addition to your general education requirements. Maintain the required minimum GPA on these courses. Most nursing program require additional courses beyond the general education courses. If possible, take these at a community college or through an accredited online college. This will show the nursing school that you are serious about going to nursing school. Because of the difficulty of some of these courses, nursing schools usually require a slightly lower GPA on these courses. Western Illinois University allows students to maintain a 2.33 GPA in prerequisite courses in statistics, anatomy and physiology, biology, nutrition, lifespan development and chemistry. Many schools also require students to take organic chemistry.
Take additional courses in math and science. Any coursework in different areas of biology, nutrition and statistics will be especially helpful to your application.
Introduce yourself to the nursing faculty and visit the nursing department regularly. Try to seek guidance from faculty members about getting into the nursing school.
Include important personal characteristics in your statement of intent or admissions essay, if one is required by the nursing school. Some schools will require you to submit a biographical essay describing your journey to nursing school and your intentions to become a nurse.
Complete your nursing application. You will be required to submit any additional transcripts if you have attended more than one school. An application fee may be required. Some schools require nursing school entrance test examinations, so you may need submit those scores. Once your application is submitted, it will be reviewed by an admissions committee and, once approved, you can begin taking classes as part of the nursing program.
2020 Salary Information for Registered Nurses
Registered nurses earned a median annual salary of $75,330 in 2020, according to the U.S. Bureau of Labor Statistics.
| Specialty | Average Annual Salary |
| --- | --- |
| Government | $84,490 |
| Hospitals; state, local, and private | $76,840 |
| Ambulatory healthcare services | $72,340 |
| Nursing and residential care facilities | $68,450 |
| Educational services; state, local, and private | $64,630 |
In 2020, 3,096,700 people were employed in the U.S. as registered nurses.
Related Articles
References
Writer Bio
Jared Lewis is a professor of history, philosophy and the humanities. He has taught various courses in these fields since 2001. A former licensed financial adviser, he now works as a writer and has published numerous articles on education and business. He holds a bachelor's degree in history, a master's degree in theology and has completed doctoral work in American history.