Four of the top 18 education programs in the United States are in California, according to U.S. News & World Report's 2015 listing. The state has three of the top 13 education programs in the world, according to QS World Universities' 2014 list, and only five American schools cracked the list's top 13. You have your pick of world-class schools if you want to study in California to become a teacher, but four programs are a notch above the rest.
Stanford University
Part of one of the most prestigious universities in the world, Stanford University's education program is ranked fourth best in the United States by U.S. News & World Report and fifth best in the world by QS Top Universities. Prospective teachers can supplement a subject-area major with an education minor in the Graduate School of Education's honors program. Honors students use their training in education studies as they pursue a thesis in the social sciences or the humanities. The program concludes with a public presentation. One thesis listed in 2014 was "Growing Up Girl: Literature in the Adolescent Journeys of Self and Identity." Non-honors undergraduates can also pursue the education minor.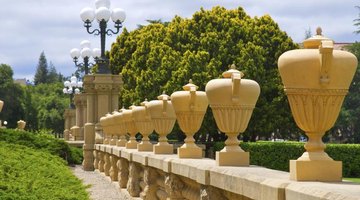 •••
morrismedia/iStock/Getty Images
University of California, Berkeley
The University of California-Berkeley's education program made the top 15 on lists compiled by U.S. News and QS Top Universities. The school offers teacher credential programs, an education minor and field studies for undergraduates, and master's and doctoral degrees. Its master's program isn't necessarily tailored for future administrators. The school invites prospective teachers to enroll in a graduate program to experience a rigorous, deep and broad training. Some graduate programs highlighted for potential teachers include developmental teacher education, science and mathematics education, school psychology and multicultural urban secondary English.
•••
Minh Tang/Hemera/Getty Images
University of California, Los Angeles
Like UC Berkeley, the education program at the University of California-Los Angeles is ranked among the top 15 on lists compiled by U.S. News & World Reports and QS Top Universities. The school offers an undergraduate education minor and graduate education programs in five areas: higher education and organizational change, human development and psychology, social research methodology, social sciences and comparative education, and urban schooling. The minor program requires a minimum 2.30 GPA in the applicant's sophomore year at UCLA. It's designed to explore how legal, social, political and economic forces shape American education policies.
•••
Merkuri2/iStock/Getty Images
University of California, Irvine
The University of California-Irvine is the highest ranking education program in California that offers an undergraduate education major, according to the 2015 list unveiled by U.S. News & World Report. The school offers a major or minor in education science and various credential and graduate education programs. Education majors can focus on early childhood learning and development, after-school learning and development, children's learning and development, digital media and learning, English language learning, and research and evaluation. Graduates must complete a practicum of at least 40 hours of field experience or research in an education setting.
•••
Nancy Nehring/iStock/Getty Images
Related Articles
References
Writer Bio
Rudy Miller has been writing professionally since 1996. Miller is a digital team leader for lehighvalleylive.com, a local news website and content provider to the Express-Times newspaper in Easton, Pa. Miller holds a Master of Arts in English from the University of Miami.