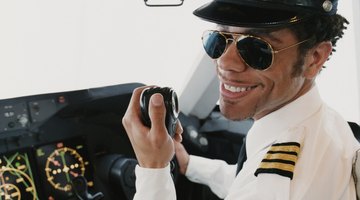 •••
Digital Vision./Digital Vision/Getty Images
To reach professional certification (airline and commercial), aspiring aircraft pilots must enroll in a flight school / college aviation program, where they will work towards their required pilot license and instrument rating. These programs are available through certain colleges and universities. College aviation programs combine traditional flight training with classroom coursework. Each program may vary, but there are common courses to expect in each.
General Aviation Courses
Students enrolled in a college aviation program will usually need to take a number of general education courses to better prepare them for the specialized coursework to come. As professional pilots must possess good communication skills in order to communicate with crew, passengers and flight controllers, many aviation programs, such as the one provided by Aims Community College, require students to take some kind composition course. Another common core class is physics, due to its applications in aircraft flight. Solid math skills are also valuable to aircraft pilots. Many programs require students to complete classes in algebra and / or calculus.
Required Aviation Courses
Most general aviation programs require students to take a variety of coursework that includes classroom-based courses and flight training. Many schools, like Central Washington University, require student pilots to take a number of classes concerned with the general principals of flight. Other required classes include private flight, where students will learn how to pilot single-engine private aircraft; commercial flight, which provides students with cross country commercial flight training; and pilot instrumentation, where students will work toward their instrument rating. Students may also take a number of classes related to air traffic control.
Elective Aviation Courses
To successfully graduate college aviation programs, students will have to earn a certain amount of credit hours in elective coursework. Students often have a wide variety of specialized coursework to choose from. Elective coursework is generally seen as an opportunity for students to broaden their flight skills and also to examine possible future career paths. Some electives offered at Aims Community College include flight instructor training, multi-engine flight, aviation management / economics and aviation GPS. Many employers require pilots to hold at least an associate degree, and still more prefer their pilots to hold a bachelor's, so students will have to meet their school's core requirements as well.
Job Outlook
In 2010 professional airline pilots, co-pilots, and flight engineers made a median annual wage of $103,210, according to the Bureau of Labor Statistics. In that same year commercial pilots made a median annual wage of $67,500. Employment of both airline and commercial pilots was expected to grow by 11 percent between the years 2010 and 2020, which is about the average rate of growth for all professions, according to BLS.
2016 Salary Information for Airline and Commercial Pilots
Airline and commercial pilots earned a median annual salary of $111,270 in 2016, according to the U.S. Bureau of Labor Statistics. On the low end, airline and commercial pilots earned a 25th percentile salary of $77,450, meaning 75 percent earned more than this amount. The 75th percentile salary is $166,140, meaning 25 percent earn more. In 2016, 124,800 people were employed in the U.S. as airline and commercial pilots.
Related Articles
References
Writer Bio
Bill Reynolds holds a Bachelor's degree in Communications from Rowan University. He has written hundreds of articles for print and online media, drawing inspiration from a wide range of professional experiences. As part of the UCLA Extension Writer's Program, he has been nominated for the James Kirkwood Prize for Creative Writing.