Enrichment activities can help keep young students engaged. The exercises will help boost critical thinking skills and build on the things students are already learning. With a large range of activities, elementary students can explore their creative skills and get a wider idea of how the world works. Foreign languages and sports are a few of the popular activities used in after school enrichment programs.
Science and Technology
Enrichment classes such as video game creation, robotics and hands-on science can let elementary children who are interested learn some beneficial skills that will help them in potential careers. Video game creation can include topics such as 2-D and 3-D modeling, software programming and digital animation. Science activities can focus on a variety of topics including biology and elementary chemistry. Children can learn to appropriately use science equipment, like microscopes, and conduct science experiments.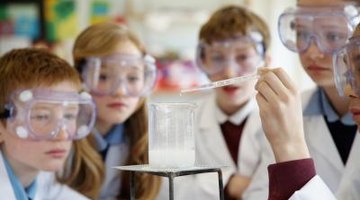 •••
Ableimages/Lifesize/Getty Images
Foreign Language
Language classes such as Spanish and Mandarin Chinese can be fun to learn and might help students develop their vocabulary skills. Tasting food from different countries, learning about other cultures and participating in cultural activities associated with a foreign language are ways to enhance the experience of learning a new language. Students who learn second languages may become more creative and open-minded. Students who eventually develop fluency in multiple languages will be able to expand their career options.
Physical Education
Sports such as dance, tennis, fencing or flag football can help children stay fit and build self confidence. After school enrichment programs that include physical education can be a great way for children to have fun, develop social skills and get exercise.
Junior Chefs
Cooking classes with a trained chef or experience cook can teach elementary students basic skills such as chopping, grating and rolling out dough. Cooking classes can help young students learn about proper nutrition and that healthy foods can also be delicious. Learning the skills to help prepare foods can empower children. Children are more likely to eat healthy food when they help prepare it.
Caring for the Environment
Activities can help students learn how to care for the environment. Maintaining a school garden helps children learn about the environment and teaches them to be responsible. They can learn to grow fruits and vegetables which will increase their understanding of plant science. Taking nature walks can also help elementary students become more aware of their surroundings.
Related Articles
References
Writer Bio
Dr. Aleathea Wiggins is a writer specializing in health, parenting and family issues. She is a former university professor, curriculum facilitator, and teacher. Dr. Wiggins holds advanced degrees and credentials in journalism, education, health and childcare administration. She has worked as a professional writer since 2009.