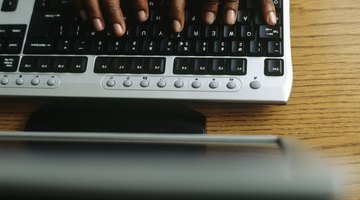 If you enjoy telling stories and see yourself authoring a great novel or writing for the entertainment industry, an online degree in creative writing from an accredited institution may be for you. According to the U.S. Bureau of Labor Statistics, the median salary for writers was over $55,000 in 2010. Freelance writers can often set their own hours, as well, making the options with a writing degree attractive to many.
Accreditation
Accreditation requires schools to compile and submit information about the quality of instructional programs and student experiences. Non-accredited schools may offer creative writing courses or even degrees online, but enrolling in an accredited institution assures students that a regional governing body stemming from the U.S. Department of Education verifies that the school meets minimum standards for education. Some employers and postsecondary schools refuse to accept degrees from non-accredited institutions, making accreditation important if you intend to use your degree to land a job or continue your education elsewhere.
Degrees
Schools offer both bachelor's and master's degrees in creative writing. A bachelor's degree generally takes about four years to complete and includes general education courses in math, science, humanities, communications and social sciences. A master's degree generally requires an additional one or two years of study beyond the bachelor's degree. Schools such as Southern New Hampshire University and the University of Colorado Denver offer a BA in creative writing online. Both institutions, as well as other accredited schools, such as the University of Nebraska have master's programs.
Courses
Many institutions offering online creative writing degrees allow students to choose a specialization at the bachelor's and master's levels such as fiction, nonfiction, screenwriting or poetry. Creative writing majors learn to hone their creative and communication skills, focusing not only on writing but also reading and analyzing written work. Coursework often includes workshops where students present their work to peers and professional writers. Some programs, such as the one through the University of Nebraska, do require some attendance to on-campus seminars.
Careers
If you want to work on a novel, book of poetry or the like after graduation, online degree programs can give such preparation and even practice. For instance, graduates of Southern New Hampshire University's MA in English and creative writing program leave with a manuscript ready for submission for publication. Creative degrees also may lead to jobs in advertising, education, business, journalism, technical writing and entertainment writing. Within any field, the degree can help you be a better communicator.
2016 Salary Information for Writers and Authors
Writers and authors earned a median annual salary of $61,240 in 2016, according to the U.S. Bureau of Labor Statistics. On the low end, writers and authors earned a 25th percentile salary of $43,130, meaning 75 percent earned more than this amount. The 75th percentile salary is $83,500, meaning 25 percent earn more. In 2016, 131,200 people were employed in the U.S. as writers and authors.
Related Articles
References
Writer Bio
Kristie Sweet has been writing professionally since 1982, most recently publishing for various websites on topics like health and wellness, and education. She holds a Master of Arts in English from the University of Northern Colorado.