What are some College Campuses Used to Film Movies?
Not all movies are filmed in Hollywood studios or exotic locations. If a scene features a college campus, it might just be the real deal. That's right: Universities aren't just places to learn. The film industry and filmmakers have a long history of using campuses as movie locations. Some of the most prestigious schools in the United States have been featured on the big screen –and your favorite movie might just be on the list. These films and shows filmed at college campuses can be featured in Disney, or can be found in shows like Gilmore Girls, that display ivy league schools that their storylines are located in. These stories can feature true stories or creative stories that range in college experiences from sorority programs to college classroom settings.
Harvard University, Johns Hopkins University, University of Southern California and Princeton University are just a few of the U.S. college campuses to be featured in movies. Other famous educational institutions that have been movie locations are Columbia University, Wellesley College and the University of California–Los Angeles. Other major cities, like Atlanta and Boston, and states, like North Carolina, also make for some great college campus filming locations.
University of Oregon, Eugene, OR ("Animal House," 1978)
One of the most well-known college movies of all time is "Animal House," starring John Belushi, Kevin Bacon and Karen Allen. It's set at the fictional Faber College but actually filmed at the University of Oregon. Fun fact: the school had previously denied a request from the production team for "The Graduate" to film on campus.
The exterior scenes of the Delta house in "Animal House" were of the Pi Kappa Alpha fraternity house, which no longer exists, and interior scenes were filmed in the neighboring Sigma Nu house. One of the movie's most famous scenes, the food fight led by Belushi's character John "Bluto" Blutarsky, was shot in one of the school's dining halls, known as the "Fishbowl."
Harvard University, Cambridge, MA ("Good Will Hunting," 1997)
•••
Dia Dipasupil/WireImage/GettyImages
Harvard University, the United States' oldest institution of higher learning, is extremely selective when it comes to on-campus filming requests. Since 1970, Harvard has had a policy of only permitting filming inside its facilities on rare occasions, meaning it isn't often seen on the big screen cinema. The story goes that physical damage was caused to the campus during the filming of 1970's "Love Story," starring Ali MacGraw and Ryan O'Neal. Movies that have been denied access to the Harvard campus for filming include "Prozac Nation" (2001) and "Harvard Man" (2001).
However, Harvard made an exception for the 1997 Academy Award winner for Best Original Screen Play, "Good Will Hunting," written by and starring Matt Damon and Ben Affleck. The movie takes place at the Massachusetts Institute of Technology (MIT), where some filming also took place. Many of the movie's scenes were filmed in Dunster House, one of Harvard's 12 undergraduate residential houses.
Johns Hopkins University, Baltimore, MD ("The Social Network," 2010)
•••
Jamie McCarthy/WireImage/GettyImages
Mark Zuckerberg studied at Harvard University, but that wasn't enough to secure permission to film the 2010 movie ‌"‌The Social Network," which is based on Zuckerberg's college days, on campus. Harvard's building front makes an appearance, but other campus scenes were filmed at Johns Hopkins University, as well as Wheelock College and two prep schools, Phillips Academy and Milton Academy.
Johns Hopkins makes an early appearance in the movie: After Zuckerberg (Jesse Eisenberg) is dumped by his girlfriend Erica Albright (Rooney Mara) in the opening scene. He heads back to his room on campus, running down the steps by the pillared colonnade separating Keyser Quadrangle from Wyman Quadrangle. Later in the movie, Zuckerberg sets up "Facemash" in the fictional Kirkland Hall, which is actually Latrobe Hall, home of the Civil and Mechanical Engineering Departments, on the west side of Wyman Quad.
Other movies filmed at Johns Hopkins include "Sleepless in Seattle" (1993), "Head of State" (2003) and "The Invasion" (2007). The Netflix series "House of Cards," starring Robin Wright, also filmed scenes at Johns Hopkins.
Louisiana State University, Baton Rouge, LA ("Pitch Perfect," 2012)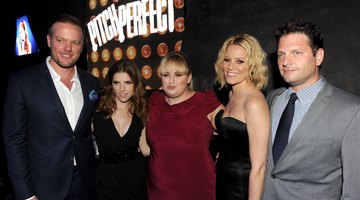 •••
Kevin Winter/Getty Images Entertainment/GettyImages
The box office hit "Pitch Perfect," starring Rebel Wilson, Anna Kendrick and Elizabeth Banks, was filmed at Louisiana State University, and many of the school's real-life students took part in the experience as extras. The next two installments, "Pitch Perfect 2" (2015) and "Pitch Perfect 3" (2017), returned to several LSU locations to create the fictional Barden University of Pennsylvania, including the Greek Theatre and the Reilly Theatre, which was the setting for rehearsal scenes featuring the Barden Bellas, the movie's acapella music group. Remember the competition scene set in a pool in the first movie? That's LSU's Huey P. Long Fieldhouse swimming pool.
University of Southern California, Los Angeles, CA ("Legally Blonde," 2001)
•••
Evan Agostini/Getty Images Entertainment/GettyImages
The long list of movies filmed at the top research school, University of Southern California, includes "The Graduate" (1967), "Ghostbusters" (1984), "Blue Chips" (1994), "Forrest Gump" (1994), "Road Trip" (2000) and "Harold & Kumar Go to White Castle" (2004). And it's not just feature-length productions that love filming at USC. Television shows like "How to Get Away with Murder," "Scandal" and "For the People" all film there on a regular basis.
It was also home to 2001's "Legally Blonde," starring Reese Witherspoon as the unforgettable Elle Woods. "Legally Blonde" was set at Harvard University, but none of it was filmed there (only brief aerial scenes feature the real Harvard). Those familiar with USC may have spotted the Bovard Administration Building in the background of the scene where Emmett (Wilson) drops off Elle, who then helps her geeky fellow student David Kidney (Oz Perkins) impress a couple of snooty girls by pretending she had dated him.
Other scenes in ‌"‌Legally Blonde" were filmed at the University of California–Los Angeles, California Institute of Technology, Rose City High School in Pasadena and even Dulwich College in London, England, due to Witherspoon's other filming commitments.
When "Legally Blonde 2" was made, the production team returned to USC for some of the filming.
Princeton University, Princeton, NJ ("A Beautiful Mind," 2001)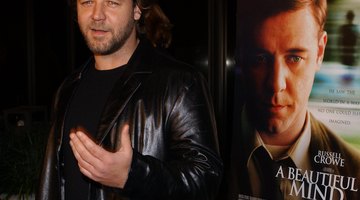 •••
Vince Bucci/Getty Images Entertainment/GettyImages
Princeton University was the location for the 2001 Academy Award-winning film, "A Beautiful Mind," starring Russell Crowe, Jennifer Connelly and Ed Harris. The movie is based on the life story of influential mathematician and Nobel Laureate in Economics John Forbes Nash Jr., who remained on the Princeton faculty until his death in 2015. The story begins in Nash's days as a graduate student at Princeton University. Notable locations in the movie include the Rockefeller College common room, which was transformed into the faculty dining room. Also, Holder Hall, which was surrounded by fake snow to ensure the authenticity of the winter scenes as filming happened in the spring.
Princeton wasn't the only campus location in "A Beautiful Mind." Scenes were also filmed at Fairleigh Dickinson University's campus in Florham Park, New Jersey, in the Vanderbilt Mansion ballroom, and Manhattan College.
Other movies filmed on Princeton University's campus include "I.Q." (1994), "The Happening" (2008), "Transformers: Revenge of the Fallen" (2009) and "Admission" (2013).
College of Charleston, Charleston, SC ("The Notebook," 2004)
•••
Kevin Winter/Getty Images Entertainment/GettyImages
The classic tearjerker "The Notebook" stars Rachel McAdams and Ryan Gosling as young lovers Allie and Noah, who have to separate after a summer of love when Allie goes to Sarah Lawrence College in New York. All of Allie's college scenes were filmed at the College of Charleston, including the scene where Lon (James Marsden) picks Allie up at school. Other movies filmed at the College of Charleston include another Nicholas Sparks adaptation, "Dear John," starring Channing Tatum and Amanda Seyfried, "Cold Mountain" starring Nicole Kidman, Renee Zellweger and Jude Law, and "The Patriot," starring Mel Gibson and Heath Ledger.
Wellesley College, Wellesley, MA ("Mona Lisa Smile," 2003)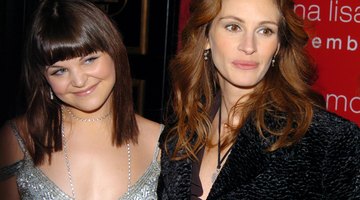 •••
Theo Wargo/WireImage/GettyImages
"Mona Lisa Smile," starring Julia Roberts, Kirsten Dunst, Julia Stiles and Dominic West, was set at Wellesley College, and a lot of the exterior scenes were actually filmed there, too. Most interior scenes were filmed at Columbia University or Yale University. "Mona Lisa Smile" was set in the 1950s, and many current-day Wellesley students were able to be featured in the movie, playing their predecessors. However, the casting call led to controversy for using the phrase "not too tan," leading to accusations of racial discrimination. As a compromise, producers hired willing minority students as production assistants. Wellesley College issued a press release to highlight the realities of Wellesley in 1953 and defend their decision to allow the film to shoot on campus.
Berry College, Mt. Berry, GA ("Remember the Titans," 2000)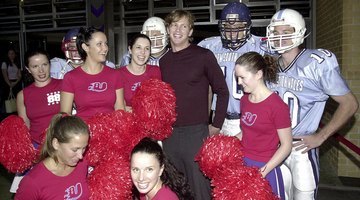 •••
Patrick Riviere/Hulton Archive/GettyImages
Berry College in Georgia provided the location for the summer training camp in "Remember the Titans." Although the movie, which starred Denzel Washington, Ryan Gosling and Hayden Panettiere, takes place in Virginia, scenes were filmed at Berry College's campus, athletic fields, women's dormitory, Ford Buildings, Old Mill, Oak Hill and various other locations in the picturesque Berry forest. The movies "Class of '61" (1993) and Reese Witherspoon's "Sweet Home Alabama" (2002) also filmed scenes at Berry, as were the TV shows "Constantine," "The Following," and "The Haves and The Have Nots."
University of Maryland, College Park, MD ("St. Elmo's Fire," 1985)
•••
Matt Winkelmeyer/Getty Images Entertainment/GettyImages
Coming-of-age movie and "brat pack" favorite "St. Elmo's Fire" stars Rob Lowe, Demi Moore, Emilio Estevez and Ally Sheedy as a group of recent graduates of Washington, D.C.'s Georgetown University. However, private Jesuit-affiliated Georgetown would not permit filming on campus due to some of the content, such as premarital sex. As a result, filming took place at the public University of Maryland, located 10 miles away from Georgetown. Unfortunately, the St Elmo's Bar itself wasn't a real place – it was constructed in a studio in Hollywood.
The University of Maryland has also been a filming location for the movie "National Treasure: Book of Secrets" (2007), starring Nicholas Cage, Diane Kruger and Helen Mirren, and the Emmy award-winning series "Veep," starring Julia Louis-Dreyfus and Tony Hale.
University of California–Los Angeles, Los Angeles, CA ("The Nutty Professor," 1996)
•••
Jason Kempin/Getty Images Entertainment/GettyImages
University of California–Los Angeles (UCLA) has been the location for many Hollywood films, including "Erin Brockovich," "National Lampoon's Van Wilder" and the 1990s slapstick comedy remake of the Jerry Lewis classic, "The Nutty Professor," starring Eddie Murphy. Murphy plays Professor Sherman Klump/Buddy Love, a brilliant scientist who invents a miraculous weight-loss solution. Many of the movie's memorable scenes were filmed on campus, including on the school's famous Janss Steps, where Klump talks to graduate student Carla Purty (Jada Pinkett Smith).
Columbia University, New York, NY ("Spider-Man," 2002)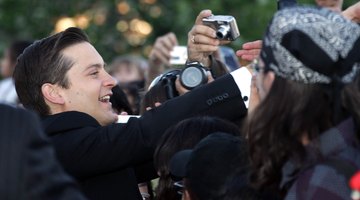 •••
Evan Agostini/Getty Images Entertainment/GettyImages
Several university scenes shot in New York were filmed at the prestigious Columbia University, including the original ‌"‌Ghostbusters" movie (1984), "Kinsey" (2004), "Eternal Sunshine of the Spotless Mind" (2004), "Still Alice" (2014) and Spike Lee's "Malcolm X" (1992). In fact, more than 40 movies have been filmed at Columbia, perhaps due to its reputation and modern architecture. The school's Havemeyer Hall is said to be the most-filmed college classroom.
The first three "Spider-Man" movies were also filmed at Columbia. In the first installment, viewers see Peter Parker (Tobey Maguire) get bitten by a genetically-altered spider during a school field trip to Columbia University. At another point in the trip, the high school students follow their tour guide through the school's Low Memorial Library. In the next "Spider-Man" movie, Parker himself enrolls at Columbia.
Pretty cool, right?
Related Articles
References
Writer Bio
Claire Gillespie has been writing and editing for 18 years. She has written about high school and higher education for private clients and various websites, including SheKnows and Reader's Digest.