There are no specific scholarships for children who have older parents. However, children of older parents may qualify for more financial aid because certain kinds of income are not counted in the U.S. government's Free Application for Federal Student Aid (FAFSA) when determining need.
Fill out the FAFSA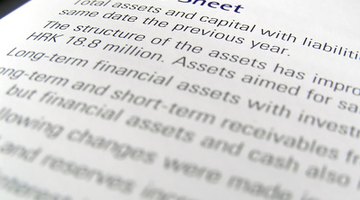 •••
balance sheet image by Darko Draskovic from Fotolia.com
Most students attending college in the United States are encouraged to fill out the Free Application for Federal Student Aid (FAFSA). This document sums up income and assets available for a student's postsecondary and graduate-level education. Using income information gathered from the FAFSA about the student and parents' assets, an Expected Family Contribution (EFC) is determined. According to Internal Revenue Service Publication 970, the nontaxable portions of pensions, annuities, Social Security Disability Insurance (SSDI), Supplemental Security Income (SSI), and the cash value of life insurance policies are not regarded as income. Consequently, older parents' contributions to the student's Expected Family Contribution (EFC) are usually lower than average and this can increase a student's ability to qualify for more need-based scholarships. Information regarding what income to report is available directly on the FAFSA website at http://www.fafsa.ed.gov/.
Need-Based and Merit-Based Scholarships
In order to access scholarships available at any given institution, a student should contact the school's financial aid office. Need-based scholarships are often the most popular type of scholarship requested, so students and their parents should complete the FAFSA and submit all requested information to the school of their choice. Merit-based scholarships are scholarships given because a student has excelled in something such as a high grade point average (GPA), achieved a high ACT or SAT score, or has completed an unusually large amount of community service. For example, Kohl's Corporation gives out varying amounts of college scholarships every year through its Kids Who Care Scholarship Program, based on community service.
These scholarships can be as much as $10,000. Students can be nominated by parents, teachers, or themselves. Information about this program can be found at http://www.kohlscorporation.com/CommunityRelations/scholarship/index.asp Students should apply for every scholarship for which they qualify.
Corporate, Professional, and Other Organizational Scholarships
Many corporate and professional organizations offer scholarships. Anyone seriously interested in receiving a scholarship should research organizations and websites to see what is available. Many corporate and organizational scholarships can be found on a website called Scholarships on the Net. Page after page of scholarships are available to individuals willing to research and apply for them.
Related Articles
References
Writer Bio
Patrice Robinson is a retired professional educator and administrator. She worked in the public schools for more than 30 years. She holds a bachelor's degree in the teaching of English, two master'sdegrees (one in English and one in education) and a doctorate degree in education.