Dermatologists are medical doctors dedicated to the treatment of the skin, hair and nails. College students applying to medical school to pursue dermatology should build a strong foundation of courses in the biological sciences, chemistry, mathematics and liberal arts. No matter what the subject area, all of your coursework will be considered when seeking to advance in the field. The average GPA of a student accepted to Robert Wood Johnson Medical School is 3.63; at Harvard Medical School it is 3.80, as of publication.
Biological Sciences
Aspiring dermatologists should take biology courses with a laboratory component, including genetics and cell biology. "Preparation in biology should place more of an emphasis on human biology and on principles of systems biology," Harvard Medical School states. Introductory-level biology prerequisites must be fulfilled before taking higher-level classes; if you have AP credit from high school for biology, check the admissions policies of the medical schools to which you plan to apply. Some will not accept AP credit or might require that science courses have been taken within the four-year period prior to applying.
Chemistry and Mathematics
Courses in organic and inorganic chemistry with laboratory components are required of applicants by most medical schools. Biochemistry is recommended. Math courses "should enable the student to develop equations, to interpret graphical representations of function and to evaluate probability involved in testing hypotheses," according to Johns Hopkins University School of Medicine. Calculus and statistics courses will develop these skills.
Foreign Language
Familiarity with, if not proficiency in, foreign languages will be an asset for physicians, so take your foreign language courses to the highest level your schedule permits. The Icahn School of Medicine at Mount Sinai features a flexible admissions program in which, "proficiency in Mandarin or Spanish will be big pluses as the school seeks well-rounded students who can communicate with an ethnically diverse mix of patients," the Chronicle of Higher Education says.
General Education Requirements and Electives
Medical schools also look at your general education and elective courses. Every course does not have to be related to science or medicine, however. Choose a variety of liberal arts courses and use electives to pursue personal interests. Consider a course in interpersonal relations, as good communication skills benefit physicians. Dermatologists deal with increasingly common skin cancers and sensitivity is needed when addressing patients and their families about disease. Technology plays a big role in the medical field, so computer courses will enhance your candidacy.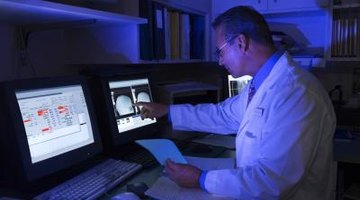 •••
Jupiterimages/Comstock/Getty Images
Related Articles
References
Writer Bio
Based in the Southeast, Sally Miles has been a freelance writer and editor for nearly a decade. She has written for "For Me" magazine and holds a master's degree in English from Columbia University.