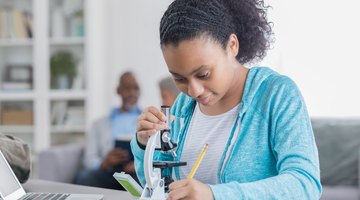 •••
asiseeit/E+/GettyImages
Home-schooling policies are among the most misunderstood policies in the American educational system. While most people know that parents may opt out of government-funded public education if they wish to send their child to parochial or private school, there is a lot of confusion around what home schooling looks like and whether parents are compensated for teaching their own children.
Tip
Parents do not get paid to home-school, but grants and funding opportunities are available.
What Is Home Schooling?
Home schooling is a practice whereby parents opt to design their children's education in lieu of sending their children to public schools in their area, private schools or parochial schools. The reasons for this are numerous. Many parents feel that the public education available to their children is subpar and that they could provide better education on their own. Private school may be prohibitively expensive, and parochial school may conflict with the family's values.
In other cases, parents who have strict religious views may not want their children to be exposed to a value system outside of the home. For this reason, home school may seem like the most logical approach in order to make sure that the information that children are receiving is in line with what the family believes. In other situations, children may deal with social anxiety or other developmental or emotional issues, and the parents may feel that home schooling is the best way to ensure that their children get the attention that they need.
Historically and in the popular imagination, home-schooled children are kept home because of their parents' concerns about the libertine environments in public schools. However, it is increasingly the case that parents who elect to home-school their children do so because they want them to have a deeper understanding of particular areas of the world rather than simply getting a little bit of information in the traditional classroom.
How Do You Get Started Home-Schooling Your Child?
For parents who want to teach at home, there are a plethora of standards that must be met. Just as every state has its own curriculum requirements for public school, every state has different legalities and requirements in terms of exactly how and when parents are allowed to absent their children from the public education system. The first step is familiarizing yourself with the laws for home schooling and home education in your state. These requirements can be found online in almost every case.
The next step is to determine exactly what kind of home-school environment you are hoping to offer your child. For parents who want to create an at-home environment that most closely mirrors a traditional academic classroom, there are a number of materials that you can purchase or rent that can help you to shape the space you have to the particulars that you need. They can also help you design a curriculum and a schedule that aligns with what your child will be learning along with his other needs and interests.
Finally, it is a good idea before you begin home-schooling to reach out to any local home-schooling communities that you can find. You may also choose to connect to communities online where you can speak with other parents and get answers to your questions. Whether you are interested in creating a traditional school environment or whether you are a proponent of the "unschooling" method that allows children's own interests to guide their education, you will find support and information online.
Types of Home-Schooling Curriculums
Some parents who have opted to home-school their children join digital communities of families who are remotely linked together and who attend classes via webcast or video chat. In other cases, physical communities of home-school students gather together and learn, taught by either parents of the children in question or by a teacher hired by the collective of families. In still other cases, parents will volunteer to get certified to teach their own children.
In some situations, home-school families will join together with different parents in teaching and tackling different subject areas. The internet is full of resources for families who are planning to home-school. Whether you are looking to strengthen your own instructional knowledge, learn about classroom management or simply firm your understanding of the concepts and ideas you're hoping to impart to your children, there are resources available. Parents may wish to teach their children the subjects they feel best equipped to explain and illustrate and then hire an outside instructor to teach other topics.
The most important thing is to make sure that whatever practice you choose, you are fully in compliance with local laws and regulations. Regardless of what you think of the educational system, the fact is that your child may want to have the opportunity to go to college or another traditional academic institution at a later point in her life. By being sure that you are giving her what she needs to enter the world of traditional education, you will not be depriving her of any necessary education.
Do Parents Get Paid to Home-School?
Because traditional teachers get paid to teach children, people considering home schooling often wonder whether they can expect any sort of compensation for home-schooling their child. With very few exceptions, the answer is no: Parents do not receive money for home-schooling from the government. Unlike foster parenting, the government does not offer any sort of compensation to parents who choose to opt out of the free education provided by the state. Choosing to educate your children at home privately is a parent's right, but parents are not entitled to financial compensation.
In some states such as California, parents must actually pay the state in order to register as a private school. All home-schooled students in the state are required to attend something that is registered as a school, and thus the onus is on the parents to register as a private institution. In states like Pennsylvania, students must take standardized tests as required by the state just as their peers in public schools do. In this case, parents must pay the necessary fees.
In some states, you can get certified to teach children other than your own. If that is the case or if you are certified as a teacher, you may be able to get hired to teach children in a home-school setting. However, this is up to the state's laws. Some states, like Washington, indicate that parents who are home-schooling children are only allowed to educate their own children. In that case, you would be limited to educating your own children for free or hiring an outside educator, which could be very expensive (but still likely less expensive than private school).
Is There Financial Assistance for Home-Schooling Parents?
While parents are not compensated by the state or federal government for their home-schooling efforts, there are a number of grants and funding opportunities available for parents who are interested in home schooling and are on a budget. Just as each state has requirements for home-schooled students, each state has its own opportunities for funding or a lack thereof. Alabama famously has no resources for parents looking to home-school. On the other hand, California has many opportunities, from private grants to charter foundations.
You may be eligible for discounts in terms of purchasing curriculum for your children and in getting necessary resources. For this reason, it makes a lot of sense to try to share or pool resources. If you can connect with other families in your area who are home-schooling their children, you may be able to come into possession of resources you otherwise may have to buy.
Related Articles
References
Writer Bio
Ashley Friedman is a freelance writer with experience writing about education for a variety of organizations and educational institutions as well as online media sites. She has written for Pearson Education, The University of Miami, The New York City Teaching Fellows, New Visions for Public Schools, and a number of independent secondary schools. She lives in Los Angeles.