No group of universities dominates the top of national ranking lists like the Ivy League, a group of eight schools in the U.S. Northeast linked by an athletic conference and by their academic and social prestige. U.S. News & World Report's top four schools in the U.S. for 2014-15 are all Ivy League schools. QS World University Rankings, the Academic Ranking of World Universities and Forbes all have at least three Ivy League schools among their top 10. Even in this elite grouping, a few schools consistently rise to the top of the national lists.
Harvard University
Harvard University in Cambridge, Mass., is the best university in the world, according to the 2014 Academic Ranking of World Universities. The school is second only to the Massachusetts Institute of Technology, according to QS World Universities' 2013-14 list, and second only to Princeton, according to U.S. News & World Report. Harvard is the oldest American university, established in 1636. In 2014, 47 Nobel laureates, 32 heads of state and 48 Pulitzer Prize winners all had some affiliation with Harvard, according to the university's website. The school boasted a $32.7 billion endowment for 2013.
Yale University
Yale University in New Haven, Conn., ranked in the top 10 on lists by QS World Universities in 2013-14 and Forbes in 2014. The school came in third on U.S. News & World Report's list for 2014-15. When Kwasi Enin was admitted to all eight Ivy League schools in 2014, he chose Yale because of its residential college system and music clubs. Yale accepted only 6.9 percent of applicants in 2013-14. Students from 119 countries outside the United States go to Yale, making up 18 percent of the student body. Yale had a $20.7 billion endowment in 2013.
Princeton University
U.S. News & World Report chose Princeton as its top school in the nation for 2014-15, and Forbes ranked Princeton University the highest Ivy League school in the nation, fourth overall in 2014. The Princeton, N.J., school was established in 1746, making it the fourth oldest American college. Freshmen and sophomores have freedom to explore different disciplines, but they are required to complete one or two classes in each of seven general areas: epistemology and cognition, ethical thought and moral values, historical analysis, literature and the arts, quantitative reasoning, laboratory science and technology, and social analysis. The university endowment was $18.2 billion in 2013.
Columbia University
U.S. News & World Report selected Columbia University in the City of New York as the fourth-best American university for 2014-15, and Columbia came in eighth on the Academic Ranking of World Universities in 2014. Columbia was founded in 1754 as King's College, the oldest college in New York and fifth oldest in the nation. Seven percent of prospective freshmen were admitted to Columbia in 2013 and 8 percent were admitted to Columbia's School of Engineering and Applied Science, which is rated among the best in the U.S. Columbia held an $8.2 billion endowment in 2012-13. The university library system held 12.8 million volumes in 2013.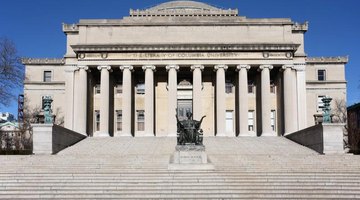 University of Pennsylvania
The University of Pennsylvania was ranked seventh best in the nation by U.S. News & World Report in 2014-15, 12th by Forbes in 2014 and 13th by QS World Universities in 2013-14. The Philadelphia school admitted 12.2 percent of applicants in 2013. Eleven percent of 2013 freshmen were international students. From 1993 to 2013, University of Pennsylvania faculty members won five National Medals of Science, four Nobel Prizes and five Pulitzer Prizes. The school boasts 100 research centers and institutes and a library system with 6.19 volumes. Nearly 14,000 university students and employees participate in more than 300 volunteer and community service programs.
Related Articles
References
Writer Bio
Rudy Miller has been writing professionally since 1996. Miller is a digital team leader for lehighvalleylive.com, a local news website and content provider to the Express-Times newspaper in Easton, Pa. Miller holds a Master of Arts in English from the University of Miami.