Whether you are looking for a quick jump into the rapidly growing field of drug and alcohol counseling or you already work in the field and want to become certified or licensed, fast-track, online chemical dependency counselor programs give you the flexibility to merge course work into your existing schedule. According to the U.S. Bureau of Labor Statistics, the employment of substance abuse and behavioral disorder counselors will increase 27 percent from 2010 to 2020, making this the perfect time to help people with chemical dependencies.
Finding the Right Program
You can use online tools such as ATTC Network.org or MSW Programs.com to start your search for a fast-track online degree in drug and alcohol counseling. Confirm that you are getting a quality education by checking the school's accreditation, and you should also verify that the U.S. Department of Education has approved that accreditation. You can check the Council for Higher Education Accreditation for a list of national and regional accreditation agencies, or search their institutional database to find the accreditation of the program in which you are interested.
Path to Certification
Sometimes substance abuse programs, such as Hazelden, fill entry-level positions with people who have gained sobriety from addiction even if they do not have a degree, as their direct experience provides a perspective that cannot be replicated in the classroom. However, according to Addiction Technology Transfer Network, most positions require a degree, certification or licensure. Fast-track programs range from three to nine months of course work plus a practicum and internship working under the supervision of a licensed professional. If you are currently working in the field, you can often replace required hours with your experience.
Associate and Bachelor's Degrees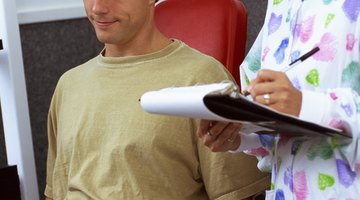 •••
Jupiterimages/liquidlibrary/Getty Images
With an associate degree in substance abuse counseling, you can qualify for basic level positions at detoxification programs and outpatient or residential addiction treatment centers. Students with a bachelor's degree in psychology will not necessarily have the specialized training required to be a substance abuse counselor; however, through continued education they can gain certification or licensure through an online associate or bachelor's degree program.
Master's Degrees and Licensure
Obtain a license if you want to work as a senior or managing counselor in a rehabilitation clinic, outpatient treatment center or hospital, or if you wish to open a private practice. A master's degree plus 2,000 to 3,000 hours of clinical experience is required for licensure. Many online degree programs offer a fast path to an MSW, and you can look at MSWprograms.com to find one that is right for you. Since requirements differ by state, check the National Board for Certified Counselors to find the specific requirements for the state in which you wish to practice.
Related Articles
References
Resources
Writer Bio
With degrees in biology and education, Jennifer VanBuren now utilizes her research and instructional skills as a writer. She has served as educational columnist for "Austin Family Magazine" for four years and also reports on area businesses for "Faces and Places" magazine.