Have you ever wondered why your cat sneezes? Do you want to understand what is in the vaccine that your dog gets yearly? When you've heard news stories about advances in food science that involve animals, do you try to figure out what those actually are, and if they're safe? If you have an interest in the health and welfare of animals, then a future in animal science may be right for you. Several advanced degree options can lead to exciting and fulfilling careers.
Doctor of Veterinary Medicine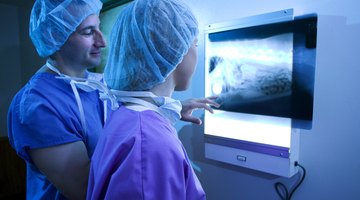 •••
Thinkstock/Comstock/Getty Images
The Doctor of Veterinary Medicine degree prepares you for clinical practice, working directly with clients and their animals. Upon completion of your undergraduate degree, the DVM typically takes an additional four years. The first three years focus on coursework, laboratory skills and observations in preparation for the fourth year in which you will learn hands-on in a clinical setting. You will learn about a wide variety of scientific disciplines from a veterinary perspective and will also usually have the opportunity to choose from a number of sub-specialties, including surgery, nutrition and dentistry.
Ph.D. in Veterinary Science
•••
Thinkstock Images/Comstock/Getty Images
A Ph.D. in veterinary science is a research-based degree, which will train and prepare you for a broad range of career choices in a variety of industries involved in animal sciences. The types of organisms you may study will depend on the specific school or program you choose. Opportunities for study include fields such as animal nutrition, agriculture, disease control, pathology, health, wildlife conservation efforts, food safety and animal behavior. The Ph.D. in veterinary science does not allow you to work with any animals in a clinical setting; rather, your research could potentially be used by veterinarians in their own practices.
Other Career Options
A DVM or Ph.D. in veterinary science can open doors to work experiences that you may have never considered. Some of these include employment with the United States Department of Agriculture, the Centers for Disease Control and Prevention, nonprofit organizations such as animal rescues and shelters, the military and pharmaceutical or biotechnology industries. Many people who choose a career option outside of academia with their Ph.D. or outside of private practice with their DVM will often return to academic research or teaching later on in their career to share their experiences with new students. Many career options are very similar with both degrees; the main difference is the lack of ability to practice clinical veterinary medicine with a Ph.D.
Combined DVM-Ph.D. Programs
If you have an interest in animal science from both the research and clinical perspective, pursuing a dual-degree program may be right for you. These programs are extremely competitive and rigorous, only accepting a handful of applicants each academic year. The training provided will allow you to earn both the DVM and Ph.D. degrees, which can set you on a path to conduct excellent research into animal welfare that you can apply directly in your own animal practice. This is known as translational research and is one of the fastest-growing fields in the biological sciences.
Related Articles
References
Resources
Writer Bio
Dr. Holzman earned a Ph.D. in Biochemistry from Emory University, and taught introductory biology there for 10 years. She also holds a teaching license in high school biology, and has extensive experience with curriculum development and implementation in both college and high school classes.