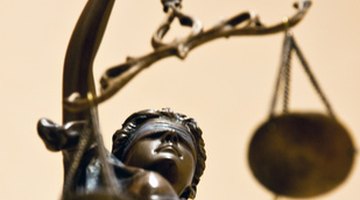 The practice of business law will always be in demand, as having a trustworthy and competent attorney is a critical component of owning and operating any type of business. Becoming a business lawyer is a process that requires years of education, and in many cases, hundreds of thousands of dollars. However, your hard work will be sure to pay off, as successful business attorneys can command impressive salaries. According to the U.S. Bureau of Labor statistics, in 2007 the median salary of a business lawyer only nine months after graduation from law school was $69,100.
Enroll in a reputable college or university. Most American Bar Association (ABA) approved law schools require completion of a four-year bachelor's degree. The type of degree and undergraduate major does not matter, as long as you demonstrate that you can think critically, synthesize arguments, and write well. But consider majoring in economics, accounting, finance, or other similar subjects to give yourself a well-rounded background in business studies.
Take the Law School Admission Test (LSAT). The LSAT score is mandatory for applying to any law school. According to the Law School Admissions Council, or LSAC, the LSAT is a half-day, standardized test scored on a scale from 120 to 180. Your LSAT score is an important factor in law school admissions.
Apply to law school. Choose the law schools you apply to carefully, as many have high application fees, high tuition, and some have not yet been accredited by the ABA. Research online, speak to your college advisor, and contact schools directly in order to determine those that have the best business law programs.
Graduate from law school. Upon graduation, you will be awarded a J.D., or Juris Doctorate, but only after completing three years of a rigorous academic curriculum. Take electives in bankruptcy, antitrust, or real estate law. During summers, find internships in firms or businesses that will enable you to gain hands-on experience in business law. Consider obtaining a Business Law certificate or enrolling in a joint J.D./MBA program.
Pass the bar exam. Every state has different requirements for attorneys, so study for and complete the bar exam in whatever state you wish to practice. Visit Barexam.org for a listing of links to each individual state's bar exam website.
Apply for licensure. According to the Bureau of Labor Statistics, in order to practice law in the courts of any state, a person must be licensed, or admitted to the state's bar. Licensure involves demonstrating competence and character and fitness, which often includes a background check.
Work for a business or a firm that represents businesses. Use your undergraduate major, internship experiences, and degree specialty to secure a job. Though your legal education has qualified you to represent clients in a court of law, nothing can substitute for real-world experience as a practicing attorney.
As lawyers are required to take Continuing Legal Education (CLE) courses, obtain your CLE credits in business law seminars. Consider getting your LL.M., or Master of Laws degree, in a business law specialty.
2016 Salary Information for Lawyers
Lawyers earned a median annual salary of $118,160 in 2016, according to the U.S. Bureau of Labor Statistics. On the low end, lawyers earned a 25th percentile salary of $77,580, meaning 75 percent earned more than this amount. The 75th percentile salary is $176,580, meaning 25 percent earn more. In 2016, 792,500 people were employed in the U.S. as lawyers.
Related Articles
References
Resources
Writer Bio
Lana Ulrich is a freelancer writer living and working in Philadelphia. A Penn State graduate holding a B.A. in English with honors, she has been writing since 2006, when she was first published in "The Daily Collegian" as an opinion columnist. Her interests include cultural and political theory and literature, but she also enjoys writing on such topics as health, fitness and nutrition.