Urban education focuses on schools in the cities and urban areas. Some of the nation's most respected schools offer a Master of Urban Education. Many schools add a concentration in urban education to the Master of Education degree (M.Ed.). Degree holders are much in demand; other advantages include meaningful work opportunities and career versatility. Its graduates teach, become school administrators, take on roles in government and conduct policy research.
Urban Education Centers
Not surprisingly, many of the top urban education degree programs are in big cities. Teachers College at Columbia University in New York is the oldest college of education in the country. Its students have the option of an individualized urban education concentration in a master's teaching certification program. New York University's Metropolitan Center for Urban Education is another school in the nation's largest urban center. University of Chicago's Urban Education Institute specializes in teacher preparation and inner-city school improvement. Its Urban Teacher Education Program uses an intellectual discussion approach and also places students to work in actual classrooms for degree credits. The Lynch School of Education at Boston College operates the Donovan Urban Teaching Scholars Program. In this one-year program, students engage in critical debates and learn pedagogy, but also gain practical teaching experience as aides in Boston schools.
•••
George Marks/Retrofile/Getty Images
Urban Education Curricula
Part of what makes a master's in urban education so attractive is the wide range of subject matters and fields the degree covers. Courses train students in practices, theories and analytical methods to use inside the classroom and out. Primarily, the degree promotes social relevance and cultural diversity as frameworks to build upon. Classes such as Classroom Management and Disciplinary Style comprise typical curriculum training in teaching methods. Common interdisciplinary courses such as Policy Research and Culture in the Classroom intersect with economics, anthropology, sociology and history departments. Students who earn an urban education degree leave their programs with skills to apply within government and private sectors as well.
•••
Digital Vision./Digital Vision/Getty Images
Beyond Teaching
Urban education graduates enjoy a strong employment outlook. The urban educator's skill set includes organization and the ability to lead productive discussions. These qualities open doors for graduates to work in educational policy and urban renewal if the classroom is not their calling. A master's in urban education qualifies graduates to work as school administrators with an average starting salary of $75,000 per year. Thinktanks such as the University of Chicago Urban Education Institute employ research consultants and analysts to create reports and programming to help improve urban schools. Federal, state and local education departments look for experts to direct school funding as well as monitor schools' overall progress.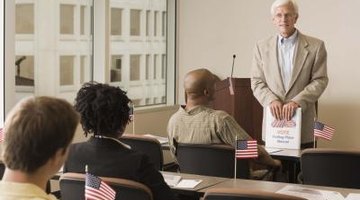 •••
Jupiterimages/Comstock/Getty Images
Financial Advantages
Finally, more graduate work in the education field pays off. The potential increased salary and lowered debt are monetary advantages of a master's in urban education. Teachers never go out of style -- new generations of children always need new teachers. According to census data, education professionals who hold master's degrees will make $600,000 more in overall employment earnings across their lifetimes than those who earn a bachelor's degree alone. If graduates teach in a government-certified low-income school for a designated time, then they receive federal reimbursement for student loans. The reimbursed amount varies based on service length and initial loan amounts.
•••
Stockbyte/Stockbyte/Getty Images
Related Articles
References
Resources
Writer Bio
Based in Chicago, Nicole Whitlow has 15 years experience as a writer, language arts educator and creative assistant. She holds both a Bachelor of Arts and Master of Arts degree in English language and literature, and a Master of Fine Arts in creative writing.