The University of Medicine and Dentistry of New Jersey offers a very competitive program. Each year, the New Jersey Dental School receives approximately 2,200 applications for 90 available seats. The requirements for consideration of acceptance are very precise, and your application won't be looked at until all aspects of it are complete. Plan well ahead of time to give yourself the best possible chance of being offered admission.
Complete Your Pre-Dental Requirements
The New Jersey Dental College provides clear guidelines on the minimum required course subjects and semester hours. Remember, this is the absolute bare minimum required to apply. You'll likely want to obtain more than these prerequisites recommend:
Biology: eight semester hours

English: six semester hours

Inorganic chemistry: eight semester hours

Organic chemistry eight semester hours

Physics: eight semester hours
At most colleges and universities on a semester system, the science class is worth three semester hours, and the lab portion is worth one. So, the classroom portion plus the lab equals four semester hours. The average GPA for admitted students is 3.65.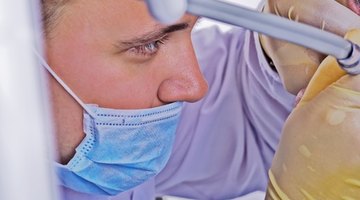 Take the Dental Admissions Test
The Dental Admissions Test (DAT) is administered by the American Dental Association. You can sign up on its website. The test is designed to challenge your knowledge of the natural sciences. Prep yourself by studying the principles of biology, general chemistry and organic chemistry. The test also gauges your perceptual ability, your reading comprehension level and your quantitative reasoning. You get five hours -- broken down into timed sections -- to complete the test. Plan to take the test in August, at the latest, of the year prior to the year you will be applying for admission. The average DAT score for admitted students is 19.8.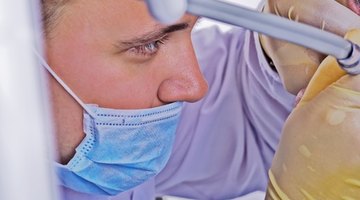 Sign up for the Associated American Dental Schools Application Service
The American Association of Dental Application Service (AADAS) provides a streamlined application process to prospective dental students. New Jersey Dental School accepts applications only through this service. The service will gather all your information, including your transcripts, letters of recommendation, applications and any applicable fees, and send them off to your schools of choice.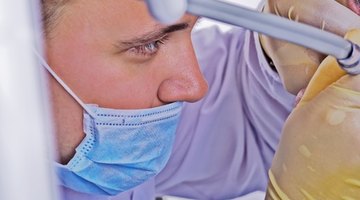 Solicit Letters of Recommendation
The New Jersey Dental School requires between one and three letters of recommendation. If your recommendation is coming from the Pre-Health Advisory Committee, then you need only one. If your undergraduate school does not have such a committee, or you are not involved with it, then New Jersey Dental school requires three letters of recommendation from faculty. Approach professors or advisers who have worked closely with you during your time as a pre-health student. Make sure you excelled in their classes, and took advantage of any extracurricular activities they offer. Only ask for a letter of recommendation from someone who will leave the reader with a positive image of you.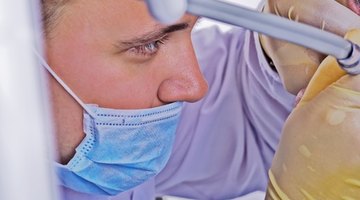 Track Down Your Documents
Don't assume that the AADSAS will call your letter-writers asking when they'll be finished, or that it will track down your final transcript at your undergraduate institution. It's up to you to get all the vital documents and test scores to the clearing house and ensure that it receives updated transcripts after you graduate. Don't get overwhelmed, just follow through with each requested document, one at a time.
Related Articles
References
Writer Bio
Kelly Waterman has been a professional Web producer and copywriter since 2006. She has written for hundreds of websites, including BodyBuilding, StudyAbroad, EarnMyDegree and SearchMarketing. Waterman has a Bachelor of Arts in English from DePaul University.