A grant is a non-repayable and non-taxable amount of money disbursed by one party to another. Though similar to scholarships and often given to individuals for educational purposes, grants can be given to a nonprofit entity, educational institution or business. There are many grants and scholarships available for teachers who want to pursue their master's degree. Several elements differ among these, including eligibility, amount and duration of the award.
TEACH Grants
The Teacher Education Assistance for College and Higher Education (TEACH) Grant awards teachers up to $4,000 per year to obtain their master's degree. According to the U.S. Department of Education website, "It is different from other federal student grants because it requires you to enroll in a specific program of study and then do a certain kind of job to keep the grant from turning into a loan." You are required to teach in a high-need field, which can include but isn't limited to bilingual education and English language acquisition, foreign language, mathematics, reading, science and special education. Any teacher who qualifies for federal student aid programs and plans to enroll in a TEACH-eligible program qualifies for the application. You must also meet certain academic requirements, which vary by school and include a specific GPA. After you receive the master's degree, you must sign an agreement to serve four of your first eight years as a highly qualified teacher in a high-need field at a low-income school.
James Madison Memorial Fellowship Foundation
The James Madison Memorial Fellowship is the "most prestigious award in constitutional history for secondary teachers," according to the James Madison Memorial Fellowship Foundation. The Foundation awards one fellowship per state each year. The purpose of the fellowship is exclusively for graduate study leading to a master's degree, so candidates must possess a bachelor's degree and be a teacher, or plan to become a teacher at the secondary school level (grades 7–12). Each individual entering the James Madison Fellowship Program must pursue and complete a specific master's degree in history or political science. The maximum amount of each award is $24,000, prorated over the period of study, and the award cannot exceed $12,000 for one academic year.
Mathematics Graduate Course Work Grants for Grades 6-8 Teachers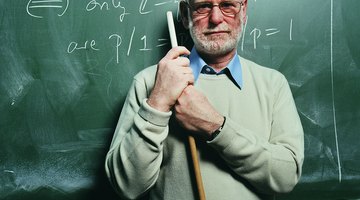 The purpose of this National Council of Teachers of Mathematics grant is to provide financial support for improving teachers' understanding of mathematics by completing graduate course work in mathematics. The maximum award is $2,000. Members of NCTM, or those who teach at a school with a current NCTM Pre-K–8 school membership, who have taught school mathematics at least three years in grades 6–8 are eligible.
Fulbright Awards
The U.S. Department of Education gives two awards for teachers to travel abroad. The Distinguished Fulbright Awards in Teaching Program pays for teachers "to go abroad for three to six months to take classes at an international university, observe classes and offer seminars in local schools and complete a project of their own design," according to the Department of Education website. There is also the Fulbright Classroom Teacher Exchange Program, which "offers educators the opportunity to exchange teaching positions with a teacher from another country for one semester or academic year."
Related Articles
References
Resources
Writer Bio
Katherine Bell splits her time between Western Montana and New Orleans. She is currently working on a PhD, conducting research on the endangered Blackfoot language. She has an Master of Arts in linguistic anthropology from Tulane University and a Bachelor of Arts in English from the University of North Florida.